Syriac Villages of Tur Abdin
/ By Josh
The aim of this post is to show off just how much there is to see in the spaces between the major monasteries of Mardin's east; or in the local language: Tur Abdin. Tur Abdin is Syriac or Aramaic for "the mountains of the servants of God" referring to the countless churches and monasteries scattered throughout the region that stretches from Northern Syria to Hasankeyf in the Turkish Province of Batman. These Christian communities are Syriac and have been in this region since the beginning of Christianity and so many of these churches number among the oldest in the world.
The architecture often reflects their ancientness as well as the need for protection against early persecution; some looking far more like a small fortress than a normal church building. The landscape is harsh and the villages are incredibly striking, many near-abandoned and others in complete ruin.
There are hundreds of places that would be worth seeing if one had the time and certainly far more than we could ever hope to explore ourselves. However, if you're on your way to any of the other main monasteries in the region it is well worth the effort to get a glimpse into either the ruins of these places or perhaps see something of the daily life of a normal, remote Syriac community and its church.
Subscribe to The Art of Wayfaring
Recommended reading:
TURABDIN (ISBN 3-9501039-0-2) by Hans Hollerweger – 367 pgs
If you can find it (we were given ours by the bishop at Mor Gabriel) this would be my recommended pick for a book with TONS of detailed information regarding off the beaten path places. All copies are German, English, and Turkish which is really helpful for trying to figure out place names in a tri-lingual region.
MONK AND MASON ON THE TIGRIS FRONTIER (ISBN 0521360269) by Andrew Palmer – 289 pgs
Though this book takes a detailed and rather academic approach it covers a broad range of sites thoroughly and may be useful to anyone who wants to take a more in-depth look at the Tur Abdin region and its unique history.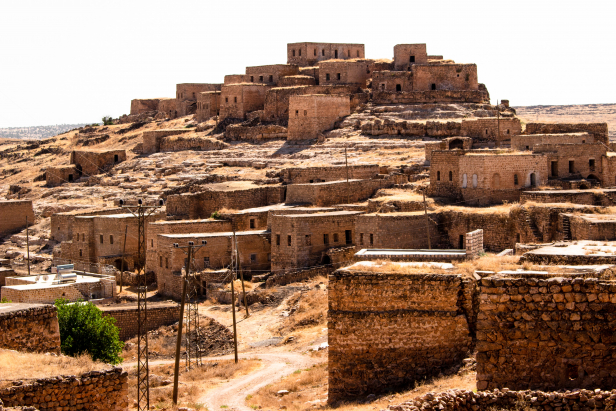 Below are a few of the places that we visited ourselves or spoke to locals about in great enough detail to feel we could recommend them to you. There are well over a hundred more such places in the region and far too many for us to explore or write about (I'm tempted to try though) so we suggest looking at the books mentioned above for more information.
Why Visit?
Doğançay (Turkish) Mizizax (Kurdish) Mozizah (Aramaic)
Cost: Public space
If someone comes out to show you around feel free to tip them for their time or leave a donation for the maintenance of the church
Subscribe to the Art of Wayfaring
This town is probably the easiest to visit as it is about 7 km south from Midyat on the Midyat – Cizre road that also passes the famous and ever popular Mor Gabriel monastery. The village is partially abandoned and in ruins though a large portion is still inhabited. The church of Mor Yuhanon, though not particularly old is an excellent example of the tradition that hangs on in these shrinking communities.
Mor Augin (sometimes Mor Avgin)
Cost: Free
Mor Augin is probably one of the most beautiful ruined monasteries in the Tur Abdin region. Located on Mount Izlo between Dibek and Günyurdu it sits perched on the steep slopes overlooking the Nusaybin plain. Founded in the fourth century it grew into a wide complex before being abandoned centuries later.
Gülgöze (Turkish) and Mor Hadbshabo
Aynverd, Aynwardo, Aynvardo, Inwardo (Aramaic or Kurdish, all are used in some places though which is which is a mystery to me) and Mor Had Bshabo (church of saint Had Bshabo)
Cost: Free
If someone comes out to show you around feel free to tip them for their time or leave a donation for the maintenance of the church
About 12 Kms directly east of Midyat (take Manastırı Cadessi out of the city) Gülgöze is another easily accessible village with a fantastic payoff. The village itself is set on top of a high hill with a great view of the surrounding area. Like many others there are parts of this village that are abandoned though this one has far more inhabitants than some of the others in the area.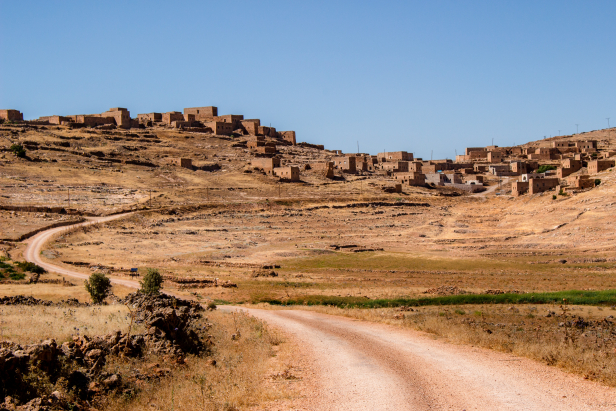 The Church, Mor Hadbshabo, is a fascinating piece of architectural history. I haven't found the exact date of construction though it would seem that at least some portions of the church were built around 400AD. The Church is built with two castle like towers and a tiny door making on top of a high hill making it a defensible position during the persecution the early Christians in this area faced from the Persians and down through the centuries. There are still a few bullets left in the walls from the racial turmoil's of the WWI period.
Anıtlı (Turkish) Hah (Aramaic) and Meryemana (Turkish) Yoldath Aloho (Aramaic)
Cost: Unknown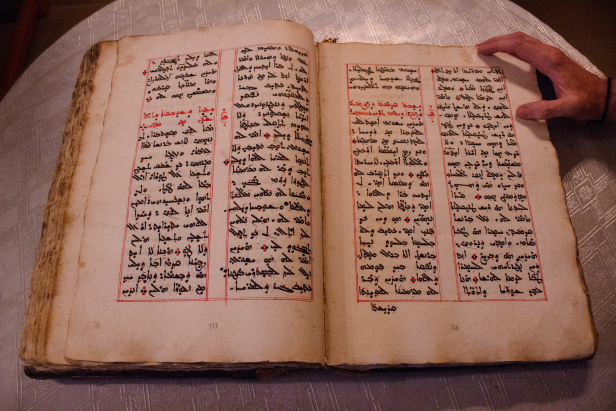 While there are number of ruined churches and monastic buildings in Hah the Church of Yoldath Aloho, better known in Turkish as Meryemana Kilisesi (Church of Mother Mary), is another unique piece of historical architecture. While the complex is about 1600 years old the unique dome and its housing were not added until the early 20th century.
How To Get There
Rental Car
The only way to see these sites is by personal car or an incredible amount of hiking. Visiting these places is further complicated by the fact that Turkish is the official language but the towns will also have Kurdish and Aramaic names that maps won't usually know. When asking for directions try as many of the listed names as possible and see if one of them works. We met some people that didn't speak any Turkish at all in this area so just using place names is your best bet!
For more about car rental and driving in Turkey make sure to read our full drivers guide.
Where To Stay
As this region is incredibly wide there are a good number of places to stay though not necessarily right where you want to go. The centers of Midyat, Nusaybin, Mardin, Hasankeyf, and Batman are the easiest options. If you know the language of the people you meet (Turkish, Kurdish, Aramaic, or even Arabic) there is a chance that they may be willing to put you up though this isn't something you can bank on.
Other Tips
The summer here is very hot and dry (frequently over 40 degrees Celsius). Coming in the spring will allow you to beat the worst of the heat and see the sites while they're set in the beautiful though short-lived greenery.
Interested in visiting Midyat and the Tur Abdin region? Make sure to check out what other amazing sights are in the province of Mardin or read about our experiences here in The Blog.
Have any tips or info to add? Spot any mistakes? We'd love to hear about it.