Neighborhoods of Istanbul – Üsküdar
/ By Josh
Once called Skutari by the Greeks that lived here, Üsküdar is by far the most picturesque of Istanbul's Asian neighborhoods. The grand old mosques, giant trees, beautiful coastline, and bustling markets set outside of the tourism spotlight makes Üsküdar a great place to experience much of the best of what 'real' Istanbul has to offer. Even the boat ride across the Bosphorus to Üsküdar is a great experience in its own right.
Subscribe to The Art of Wayfaring
Why Visit?
Mihrimah Sultan Mosque
Mihrimah Sultan Camii
Cost: Free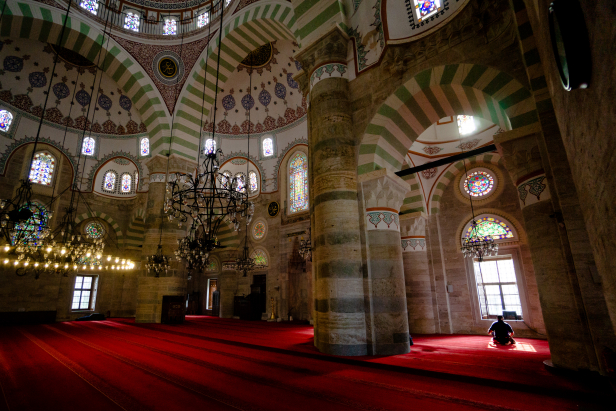 Originally built on the banks of the Bosphorus, Mihrimah Sultan Mosque is Üsküdar's most famous landmark. It was built by the great Mimar Sinan in honour of Mihrimah, the favorite daughter of Sultan Suleyman the Magnificent. Not only is the mosque itself beautiful but the mosque is said to have been built in a 1500's royal love triangle.
Just below the mosque is the Fountain of Sultan Ahmet III built in 1729 in a Ottoman-Rococo style. The fountain was originally right next to the water but was dismantled and moved a little ways inland. Thanks to some re-development the roads and bus station no longer wrap around the fountain and it's now much easier to appreciate the beautiful building without getting run over.
For that full story and more check out our page dedicated to Mihrimah Sultan Mosque!
Maiden's Tower and Üsküdar Waterfront
Kız Külesi ve Üsküdar Sahili
Cost: Free
Free unless you hire a boat to take you to the lighthouse itself.
Certainly the most iconic sight in all of Üsküdar, the Maiden's Tower is a romantic lighthouse on a small island in the Bosporus. Even though it can be seen from many places in the city, the best view is from Üsküdar. If you want to visit the little island you'll need to go through Üsküdar. You'll definitely want to be on Üsküdar's waterfront to catch the sunset behind the Old City with the Maiden's Tower in the golden waters at some point during your stay. The stretch of waterfront directly opposite the Maiden's Tower is covered in benches with blankets in the winter or umbrellas in the summer. Tea sellers and food stands make this spot one of Istanbul's most romantic.
There has been a lighthouse on this little rock for around 2500 years though its name refers to a later Byzantine legend. The story is that the Emperor heard a prophecy that his daughter would be killed by a snake, and so to protect her, put her on the island where no snake could get her. But destiny prevailed and a snake hiding in a basket of fruit sent to her bit her. Beyond this there are a number of other legends attributed to this place, all of which are as romantic as they ought to be.
Şemsipaşa Mosque and library
Şemsipaşa Külliyesi
Cost: Free
When walking along the waterfront from the ferries to the Maiden's Tower you will walk by Şemsipaşa Mosque and library perched on the edge of the swirling waters of the Bosporus. Şemsipaşa was built by court architect Sinan in 1580 as a religious school complex and is popularly known as Kuşkonmaz Mosque (meaning 'birds don't land'), because it is believed that it was designed in such a way that birds cannot land on it.
If you want to learn more about the Şemsipaşa complex and how I saw a bird land on it, make sure to check out our full post!
Cafes and Restaurants
Cost: Varies
Istanbul's Asian side has two city centres; Üsküdar being the centre for more traditional Turks, and Kadıköy for liberals. As such Üsküdar doesn't have bars and western style cafes but is full of traditional Turkish restaurants and cafes. Many of these are built with a sort of Ottoman nostalgia. The buildings are old, the music classical, and the fare traditional. This is a great place for Turkish coffee, Menengıç, Sahlep, and various teas. Two of the best shops are on the hill right behind Mihrimah Sultan Mosque. Other good places can be found around Yeni Valide Mosque.
Fish Market
Balıkçılar Çarşısı
Cost: Free unless you buy fish
Üsküdar's fish market is everything you could want in a Turkish fish market: large, busy, smelly, and loud! There's a couple good seafood places in the market area as well. You may notice that some of the butchers specialize in selling offal and other odds and ends such as feet, tongues, stomach, and brains!
Yeni Valide Mosque
Yeni Valide Camii
Cost: Free
See full review for price breakdown
While far less famous than Mihrimah Sultan Mosque, Yeni Valide is arguably more beautiful and certainly much more peaceful. The mosque was built around 1710 by a student of the great court architect Mimar Sinan for Emetullah Rabiaa Gülnuş Sultan, the mother of Sultan Ahmed III. The atmosphere is quite open and the surrounding walls and trees give it something of a park-like atmosphere. This is definitely Üsküdar's most photogenic mosque.
For more details about Yeni Valide Mosque see our full guide.
Büyük Çamlıca Mosque
Büyük Çamlıca Camii
Cost: Free
See full review for price breakdown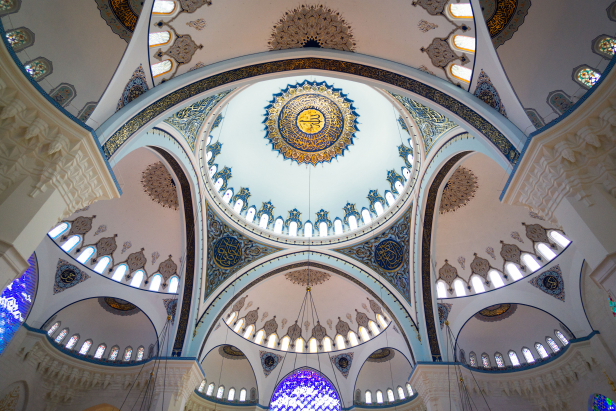 Opened in 2019 Turkey's largest Mosque, Büyük Çamlıca Mosque, towers above the city on top of a high hill in Üsküdar. Büyük Çamlıca  Mosque is a Neo-Ottoman masterpiece full of references to the glories of Turkish history. For more details check out our full guide to Büyük Çamlıca Mosque here.
While Büyük Çamlıca Mosque is in Üsküdar it is a little ways outside of the centre.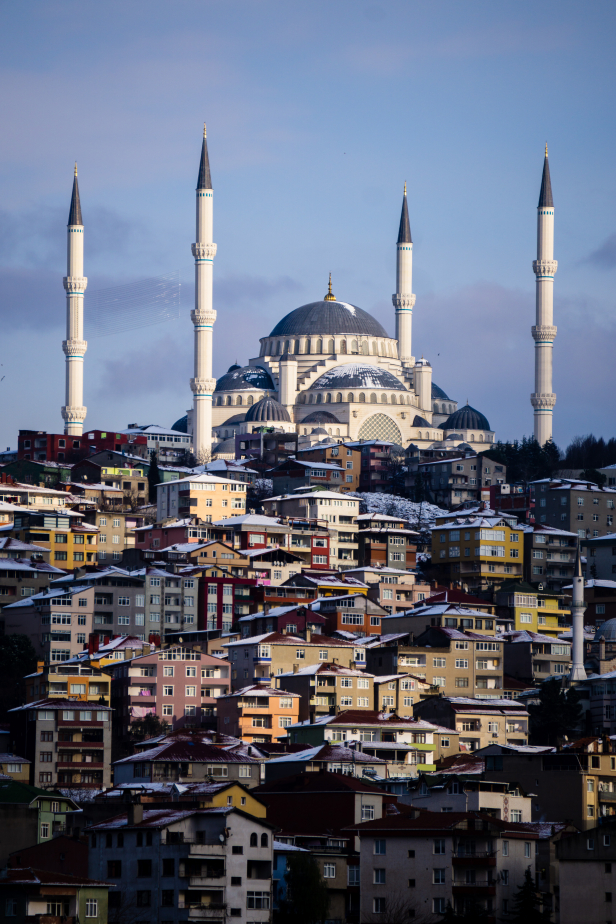 Şifa Turkish Bath
Şifa Hamamı
Cost: 55TL
See full review for price breakdown
Right in the heart of Üsküdar Şifa Turkish Bath is a great option to experience the Turkish Hamam culture away from the overly-touristic baths on the European side. If you're considering visiting make sure to read our full Turkish Bath review of Şifa before deciding.
Atik Valide Turkish Bath
Atik Valide Hamamı
Cost: 50TL
See full review for price breakdown
This Turkish Bath is a little ways away from the centre of Üsküdar, about a 25 minute walk. This hamam is a good value option and a good way to experience a genuine, non-touristic Turkish Bath. But before you decide which one to visit make sure to check out our full review of Atik Valide Turkish Bath.
How To Get There
Public Transport
From Kadıköy take the 12 bus or the metro to Ayrılık Çeşmesi where you can transfer to the Marmaray Line to Üsküdar.
From Eminönü, Karaköy, and Beşiktaş there is regular ferry service.
If you plan on coming from the European side via metro, then there is the Marmaray line that runs from Yenikapı to Sirkeci to Üsküdar.
Where To Stay
The hotels of Üsküdar are mostly cheap 2-3 star downtown places. If this is what you're into then there's a good number of options in the centre of the hustle and bustle. If that's not what you'd like then staying outside of Üsküdar is easy, especially with how well connected it is to the rest of the city.
Other Tips
Want to see more sights and destinations in Istanbul? Check out our full list of sights or The Istanbul Top 10.
Have any tips or info to add? Spot any mistakes? We'd love to hear about it.