The City of Afyonkarahisar
/ By Josh
With a rather intimidating name meaning "Opium Black Fortress", Afyonkarahisar is a fairly average small Turkish city. While Afyon (the city's more common name) may be a humble city it's home to a thriving tourism industry and a handful of great attractions.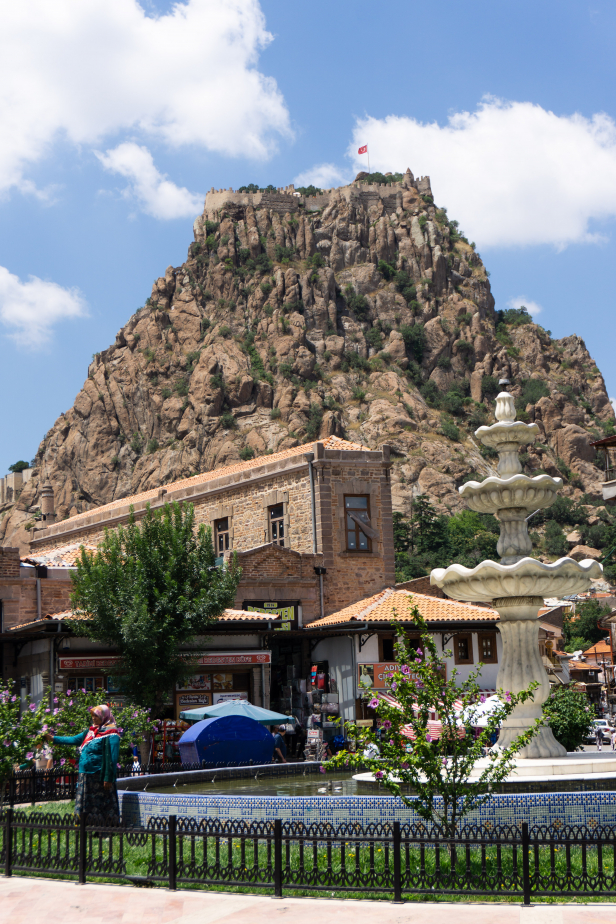 The city takes its name from two important elements. The 'Opium' part of the name comes from a long history of poppy growing and opium production that ended in the 1960's (though Afyon is still a producer for pharmaceuticals). The second part of the name 'Black Fortress' comes from the mountaintop castle that rises 200 metres from the midst of the city on a great spire of rock. A castle has stood on this rock in the midst of the city for over 3000 years beginning with the Hittites.
Subscribe to The Art of Wayfaring
The castle was fought over by Phrygians, Persians, Alexander the Great, Romans, Byzantines, Seljuks, Crusaders, Tamerlane, and some British POW's; the majority of the great rulers to cross between the Middle East and Europe have been through humble Afyon at one point or another. For many Turks Afyon is most famous as a place where the young Turkish Republic won an important victory securing the region for Turkey, an event commemorated with a rather terrifying statue in the centre of the city.
Today Afyon is most famous for soda water, mineral pools, and sausage. While this may not sound like much it's enough to make thousands of travellers stop by on their way to the Mediterranean and Aegean coasts to load up on the local food and soak in the healing hot springs.
Why Visit?
Afyon Castle
Afyon Kalesi
Cost: Free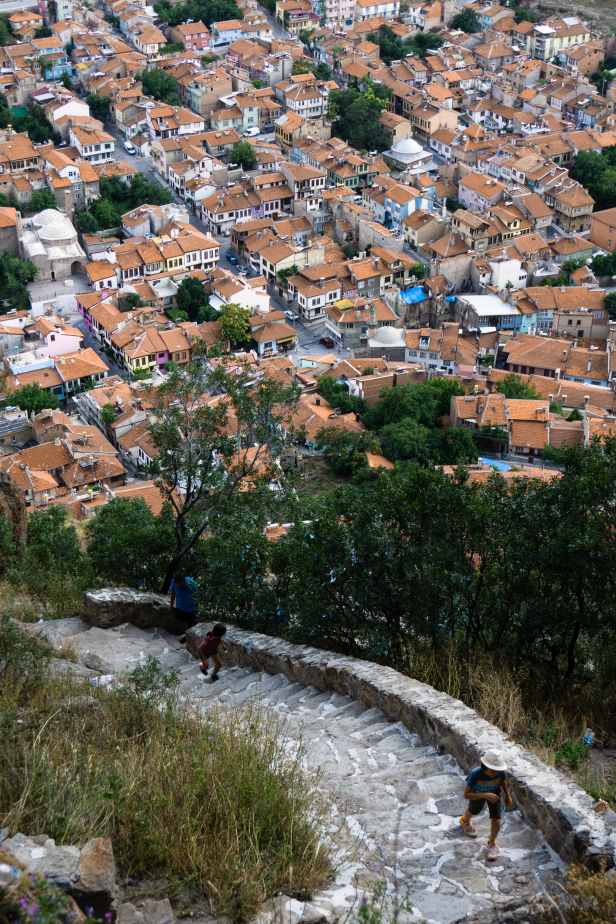 Rising 226 metres above Afyon, the "Black Fortress" is by far the most dominating sight in the city. Originally fortified by the Hittite King Mursili II around 1350 BC, the site was expanded to include temples by the Phrygians. Though fortified for over 3000 years the majority of the walls and cisterns that remain today were built by the Ottomans and maintained over the centuries.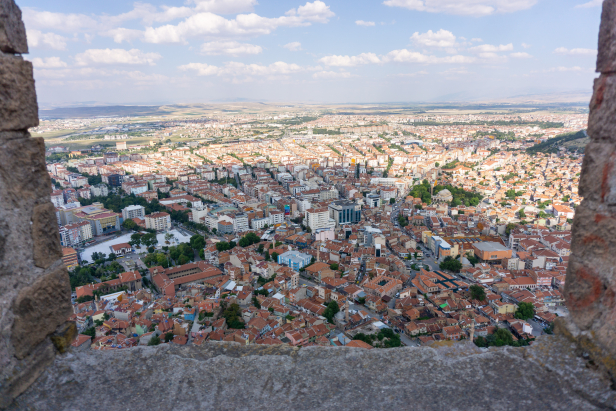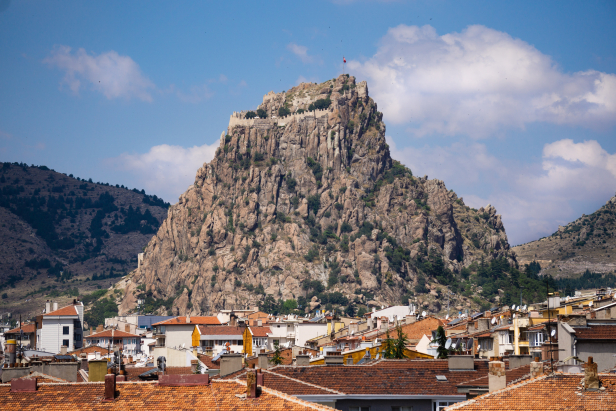 The climb from the city to top of castle is very steep and long. While we didn't count the steps to the top the numbers given range from 550 to 701. Apparently, no one's actually counting.
Themal Spas and Hotels of Afyon
Termal Spalar ve Otelleri
Cost: Prices will vary
Rich in natural hot springs Afyon is home to the largest number of thermal mineral spas in all of Turkey. Tourists from all over Turkey and the world stay at the hotels here to take advantage of the healing properties of the mineral rich waters. Hotels and spas offer a wide variety of treatments from traditional massages, salt rooms, mineral pools, and even fish pools. Waterslides are plentiful and there's lots of fun for kids and families.
Sausage Shops
Sucuk Dükkanları
Cost: Free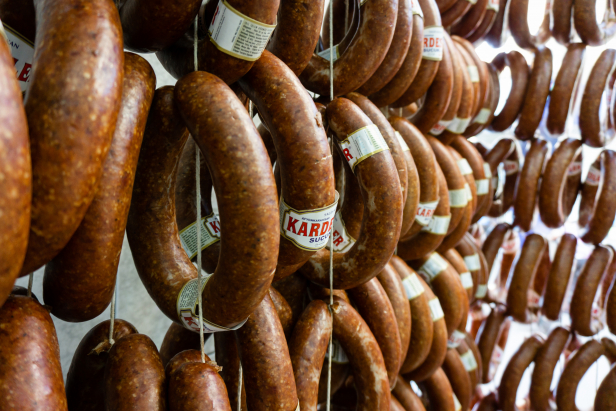 While sausage shops wouldn't normally be on any list of touristic sites, this is Afyon, and Sucuk, Turkish Garlic Sausage, is a major part of the city's identity. Driving into the city you'll see billboards for sausage everywhere and in the city sausage shops are absolutely everywhere. Their front windows with full of hanging sausages are an Afyon icon and well worth a quick visit.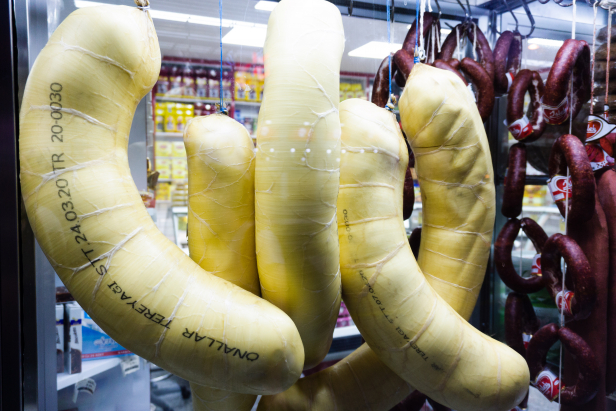 Historic Neighborhoods of Afyon
Afyon Tarihi Mahalleleri
Cost: Free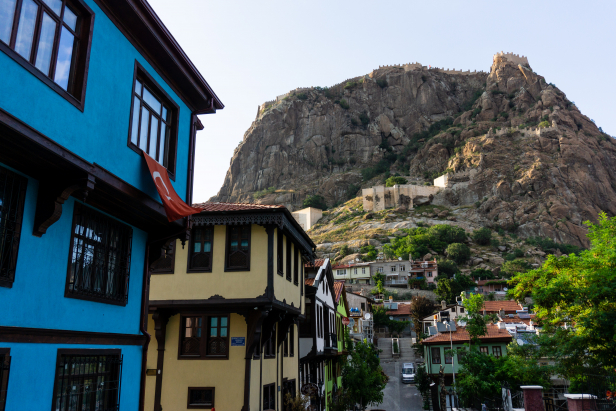 At the foot of the castle mount you'll find a beautifully preserved piece of historic Afyon full of old homes, mosques, and traditional businesses. Much of this neighborhood was destroyed in a fire that broke out in 1902 and rebuilt afterwards. While not entirely ancient, the neighborhood offers a great look into an old Ottoman neighborhood that hasn't been completely tainted by touristy tackiness.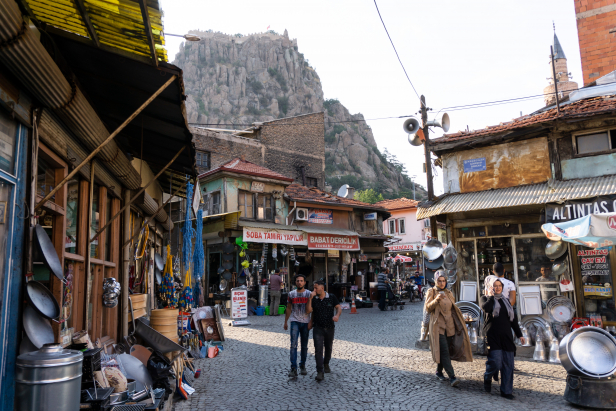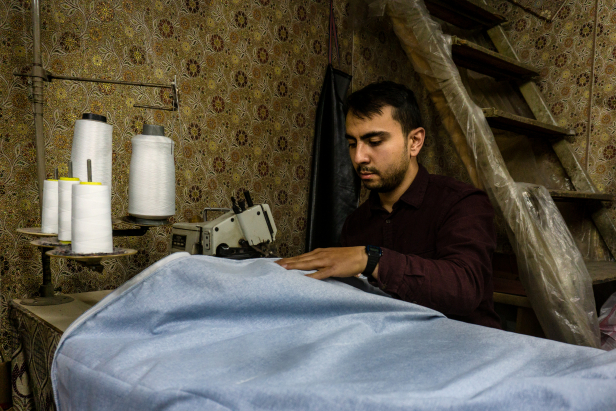 Here you'll find many traditional craftsmen and businesses still operating in tiny backstreet shops. The tiny sausage shops are clearing out as newer shops open up outside of the city, but you'll still find everything from tailors to saddle makers, quilters to charcoal vendors in this quaint neighborhood.
Check out the Taşhan (a large stone building originally made to protect caravans and their wares) and the old Bedistan, where you'll find a great little open-air café surrounded by boutique shops selling antiques, instruments, jewelry, and more.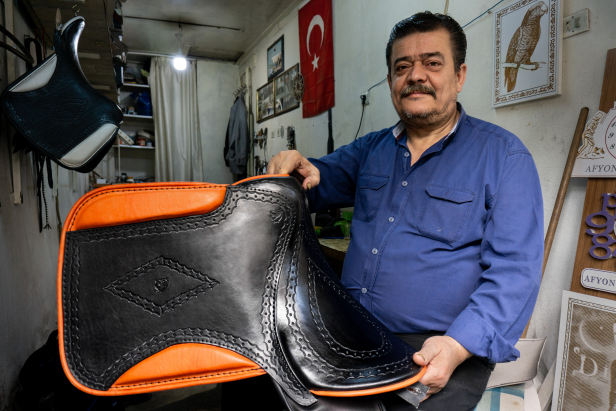 Sufi Lodge Museum
Mevlevihane Müzesi
Cost: Free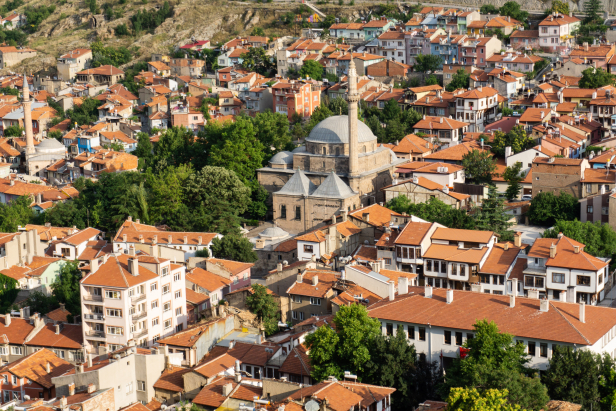 Among the more interesting sights of Afyon's old neighborhood is the Mevlevihane, or Dervish Lodge, museum. While the current structure, with its unusual pyramidal domes, was built in 1908, it sits on the site of a much older centre of Sufism, or mystical Islam.
Starting in the 13th century with the arrival of Sultan Divani, son of the famous Jelaluddin Rumi (founder of the "Whirling Dervishes"), the Mevlevi sect of mystical Islam began to put down deep roots in Afyon. The complex was the second Mevlevi Sufi lodge to be founded and Afyon became the second most important city for the Sufis.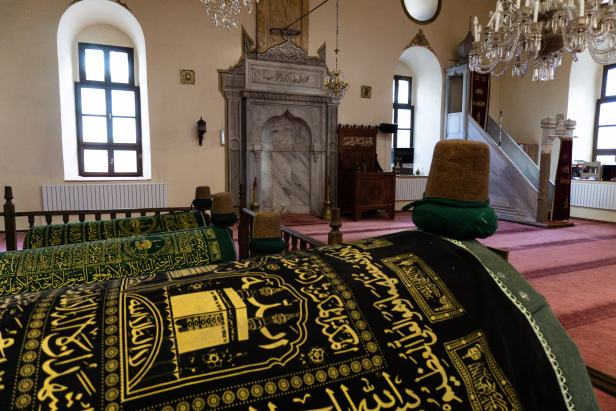 Here you'll get a glimpse into the daily life and routine of the Whirling Dervishes and see the tombs of the local founders of the mystical sect.
Audio guides are available to explain the working and history of the Sufi lodge.
Afyonkarahisar Archaeological Museum
Arkeoloji Müzesi
Cost: Free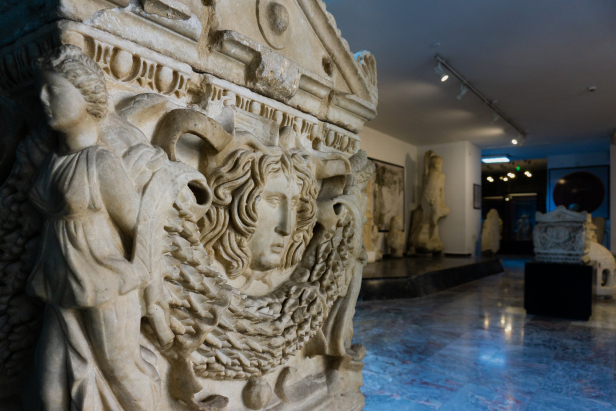 The Afyonkarahisar Archaeological museum is a fairly typical small-province museum drawing from the great wealth of artifacts to be found in the area. Items range from Stone Age tools to bronze age jewelry to grave goods from all eras of Afyon's history. Phrygian and other Hellenistic statues feature prominently. A pair of ancient tombs, one with moving stone doors and a clay coffin, and another where bodies were buried in massive earthenware jars are also quiet fascinating. In the garden you'll find hundreds of statue fragments, Christian and Islamic era gravestones, and massive earthenware jars.
Imaret Mosque and Gedik Pasha Madrasah
İmaret Camii ve Gedik Paşa Medresesi
Cost: Free
Near the heart of Afyon is an open square flanked by a complex of Ottoman buildings including a Mosque, Madrasah (school), and Turkish Bath. Established in 1472 by Gedik Pasha the complex is one of Afyon's most substantial historic sites. During World War 1, British prisoners of War were held here in the madrasah. The mosque and Turkish Bath are still in use and Gedik Pasha Madrasah (commonly known as Taş Medresesi) is used as shop space for traditional handcrafts and cafes.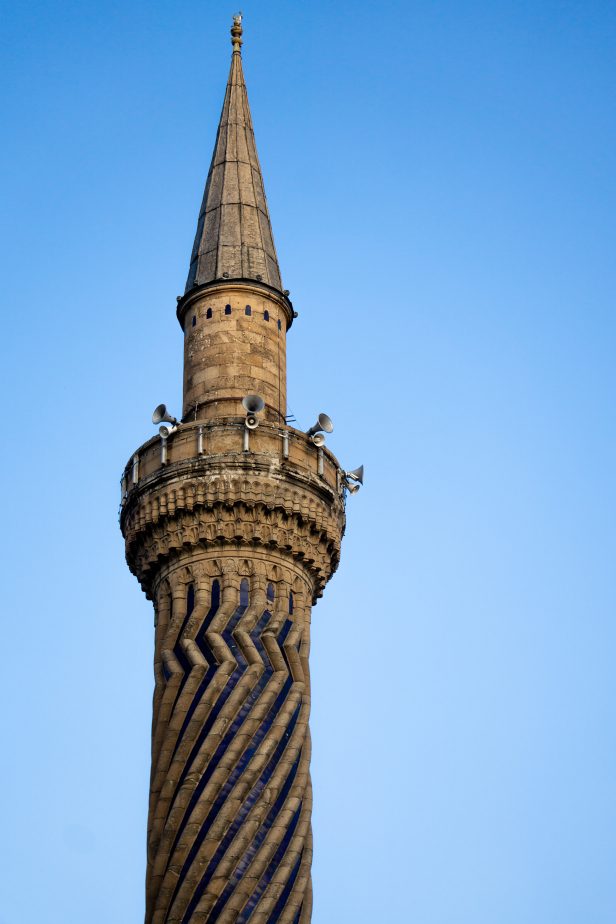 Historic Turkish Baths
Tarihi Hamamları
Cost: Free
While best known for its modern thermal spas, Afyon is also home to a pair of historic Turkish Baths dating from the Ottoman period. If you're looking for something a bit more local, historical, or authentic than the hotel Turkish Bath experience then Imaret and Alaca Turkish Baths can both be found in the old quarter. For more details see our full review of Imaret Turkish Bath or our review of Alaca Turkish Bath.
Local Dishes
Yöresel Yemekleri
Cost: Free
Beyond the above-mentioned sausage shops, Afyon is home to a number of local specialities that are worth a try.
Garlic Sausage: While we've already mentioned the sausages before it is worth noting that the garlic sausage is served in a variety of ways. One of the most interesting is as a Döner (big cylinder of rotating meat) that can be served in a wrap, as iskender, or on its own.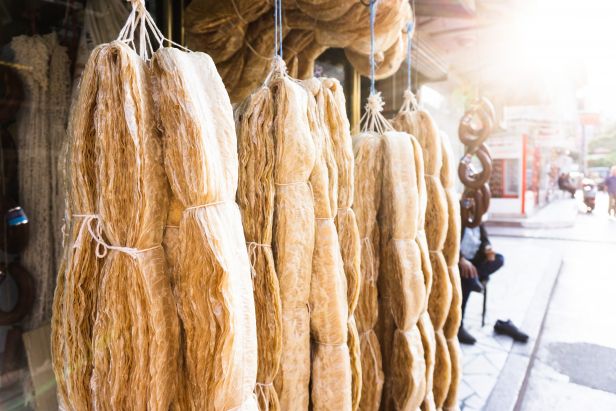 Ekmek Kadayıfı: If you have a cholesteral or diabetes problem this may not be for you. It consists of two layers of heavy bread soaked in syrup with a thick layer of clotted cream in the middle. It is sweet, incredibly heavy, and well worth trying.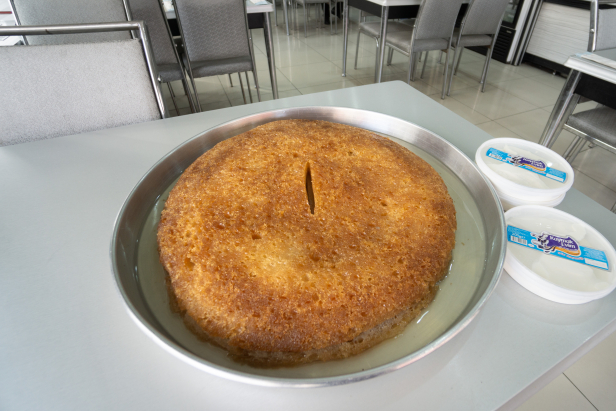 Mineral Water: This one is about as normal as you can get, but it is local! In connection with the local mineral springs, Afyon is the centre of Turkey's mineral water industry, the most famous brand being Kızılay (red moon), one of the largest distributers in Turkey and the wider region. The mineral water from here is said to have cured Ataturk, the founder and father of the Turkish republic, of a kidney ailment.
Poppy seed everything: While older locals tell us of a time when poppyseed paste was used for its health benefits (it made them feel really good they said) those days of opium in your food are over. That being said there are still a number of interesting ways that poppyseeds are used so keep your eye out when passing by local bakeries for poppyseed buns and breads.
Clotted Cream Turkish Delight: The variety of Turkish Delight types is truly staggering. In Afyon there are a number of types of Turkish delight that use water buffalo clotted cream in the Turkish Delight to make for an even richer sweet. Some are served with centres of pure clotted cream goodness.
How To Get There
General
Afyon sits on an important junction point between Western Turkey's major cities and is a popular stopover point for those on their way to the holiday cities of Antalya and Izmir. As such access to the city is great. The only thing lacking is a good airport. Below are your best transit options.
Bus
As roads to and from a number of Turkey's biggest cities all pass through Afyon there is excellent bus connection with tons of options. Make sure to compare trip times as some will pass through out of the way cities on their way to Afyon making for a longer journey. For ticket sales check obilet.com. For more info on bus routes and ticket purchasing see our guide.
Train
While Afyon is connected to the rest of the country by rail, it isn't on one of the main, high speed, routes. But rail being more romantic than bus, you may want to take this option if the timing and routes work out. See the official rail ticket sales website for more details or head to the railways station (tren gar), which is right in town, where you can ask for more help.
Car
With great highway connection Afyon is well connected to a number of major cities. From Antalya 3.5 hrs, Izmir 4 hrs, Konya 2.5 hrs, and Istanbul 5hrs. For more on renting a car and road tripping in Turkey check out our full driving in Turkey guide. See our full driving guide for all you need to know before driving in Turkey.
Where To Stay
In Afyon there are two types of accommodation: Hotels with, and hotels without mineral pools.
For hotels without, head to the centre of town, specifically the area around Park Afyon Mall and Kadınana street where you'll find the most options. These are much cheaper but also not as nice.
For hotels with mineral pools and spa treatments you'll need to look at accommodation on the Western half of the city on the main road (E96/Ataturk Boulevard) leading out of town. The hotels range from shiny-new five-star all inclusives to three-star cheap hotels will massive pool and sauna facilities.
If being close to the city itself is no issue, then there's also the town of Gazlıgöl (Gassy Lake) which is dominated by large hotels tapped into the town's excellent natural hot springs.
Other Tips
Planning on visiting Afyonkarahisar? Make sure to check out what other sights the region has to offer!
Have any tips or info to add? Spot any mistakes? We'd love to hear about it.