Pokut Yaylası Highland
(Pokut Yaylası)
/ By Josh
Cost: Free
Great for: Black Sea Life, Nature, Mountain Views, Life in the Clouds,
A picturesque blend of traditional mountain living and grand mountain vistas, Pokut is simply stunning. Pokut is a traditional Yayla, a seasonal pastureland high in the mountains where herds and families spend their summers to take advantage of the thick grasses, living in rustic houses of timber and stone.
Traditionally people walked with their animals from the villages below to reach the yayla, and even in 2002 the nearest road to Pokut Yaylası was still a kilometer away at Şal Yaylası. Thanks to the opening of roads and guest houses, visitors can come and experience the beauty of this setting and way of life.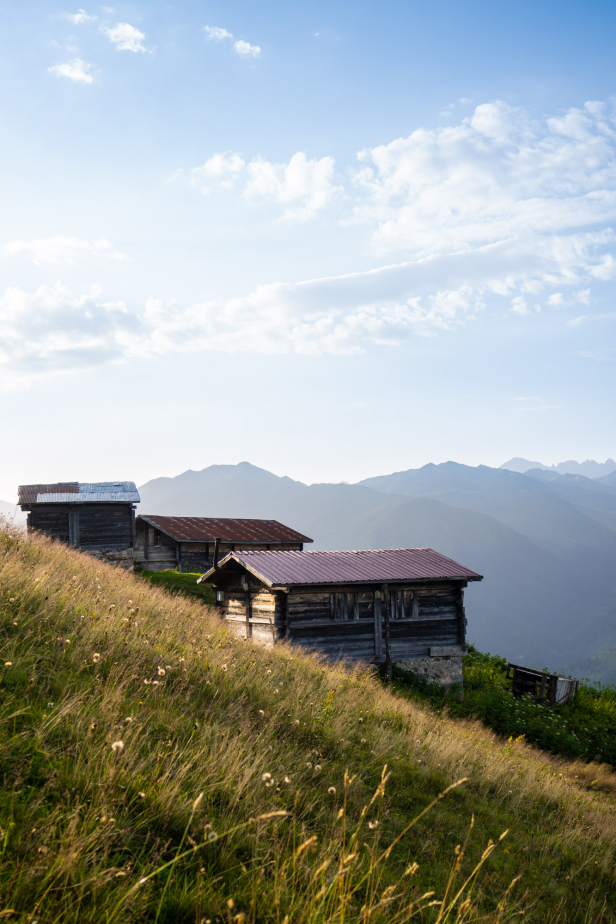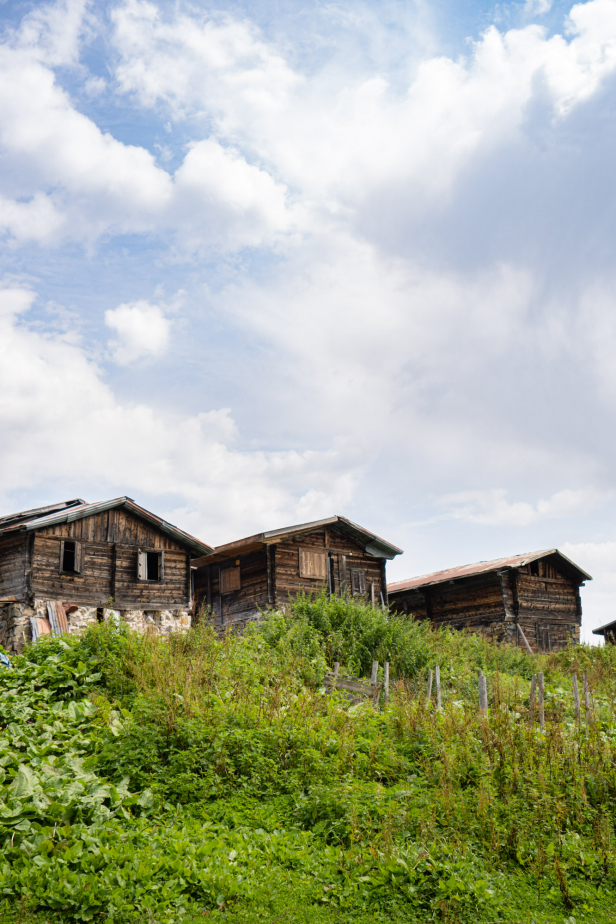 While Rize is home to many stunning Yayla, Pokut is one of the most magnificent. The small collection of traditional wood homes and barns are stretched out in a line along a narrow ridge that extends out from the mountainside into a valley falling deep below. Set at over 2000 meters above sea level, Pokut Yaylası often finds itself above the clouds, and when conditions are just right, the valley below fills with clouds, turning the narrow strip of land into a peninsula jutting out into a sea of cloud and the mountains becoming a distant shore.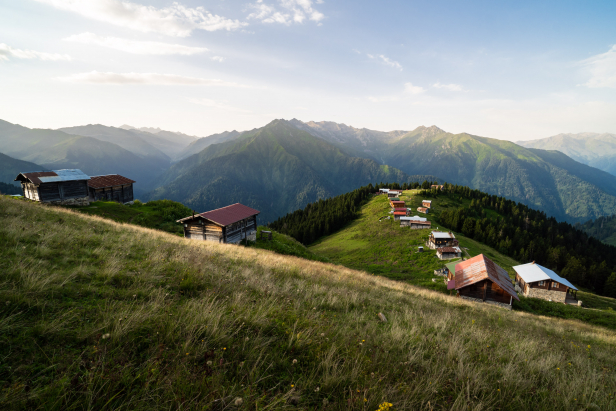 While many people visit Pokut Yaylası for just an hour or two, the best way to see it is by staying the night in one of the "Yaylaevi" guest houses so you can experience the deep quiet of this remote place and watch the sun rise and set over the distant peaks of the Kachkar Peaks. Even if you just come to stay an hour or two, make sure to drink a cup (or pot) of Turkish tea, grown on lower slopes of Rize's mountains or try a cheesy dish of Muhlama, a local favorite.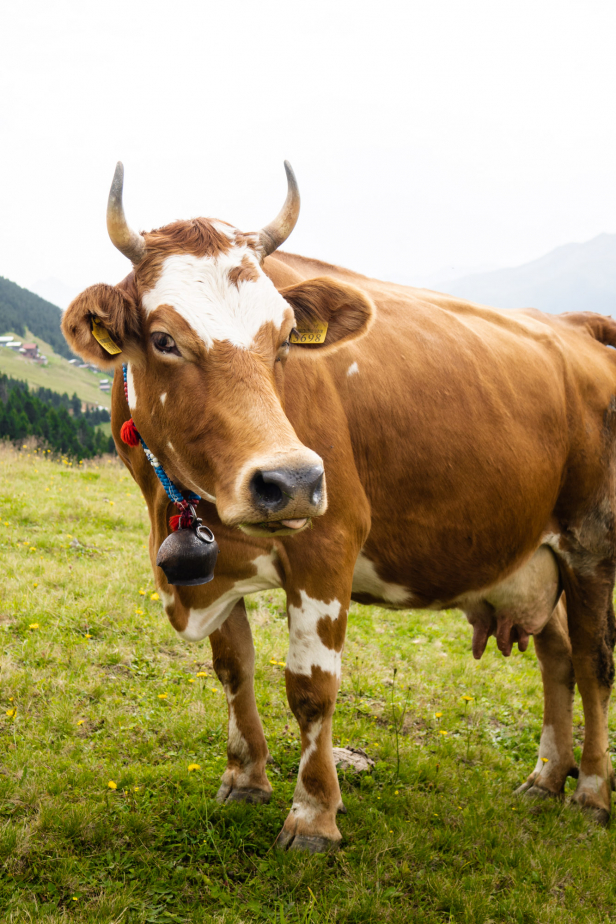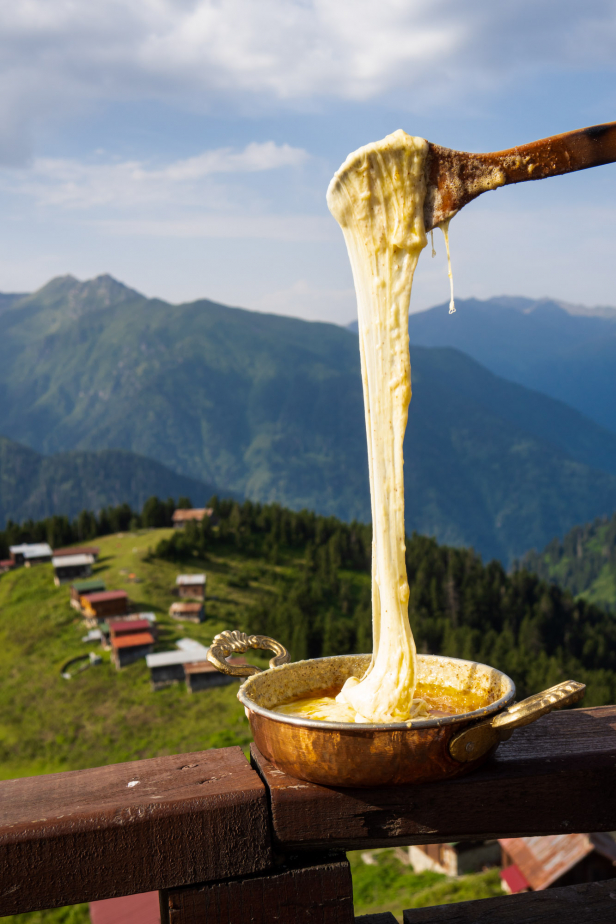 If you have the time, wander through the spruce forest to the nearby Şal Yaylası and visit the goats and cows, maybe even try some goats milk ice cream!
How To Get There
General
Part of what has kept Pokut Yaylası so authentic and picturesque is the fact that it isn't easy to reach. The dirt road from Şenyuva is rough and about the max of what I'd recommend attempting with a car. Its only 12 kilometers but can easily take over an hour and road conditions can change quickly with the mountain weather.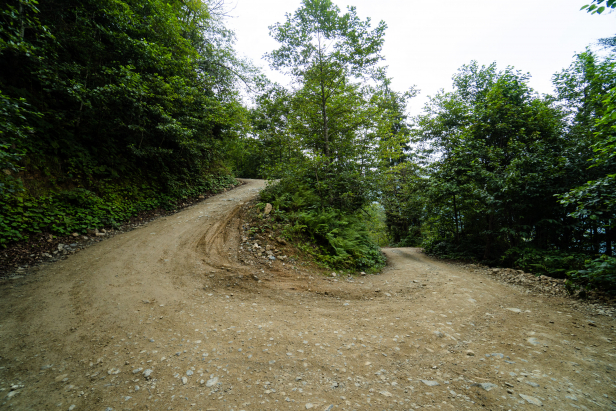 If you are set on visiting Pokut Yaylası (and you should be), then there are two ways to visit. The first is to join a tour or hire a tour guide that can take you to a number of sites in the area. While many only stop by briefly for half an hour to an hour, if you are hiring a private tour you'll have more flexibility and can even arrange to stay the night.
If you plan to drive yourself, head east from the city of Rize on the D010 highway to Ardeşen where you'll see a massive brown sign marked for the various sights up the valley. Take the Ardeşen – Çamlıhemşin Road into the mountains following the Storm Creek with its beautiful historic bridges. Follow this road past the town of Çamlıhemşin (the road will go straight but become Halil Şişman Street) to the village of Şenyuva. On the south side of the village of Şenyuva take your first left up the mixed paved/dirt road. This road will climb with numerous switchbacks passing through forest for 12 kilometers. A short distance after the road levels out and the forest opens up, you'll come to a junction, a number of signs for Pokut Yaylası, and the various guest houses. The road splits into two, an upper and a lower track. Take whichever road goes to your hotel, or, if you're just here for a a quick visit, take the upper track where the better viewpoint is.
For more about car rental and driving in Turkey make sure to read our full drivers guide.
Where To Stay
If possible, stay in Pokut Yaylası where you'll be able to enjoy breakfast with a stunning morning view. By 11am Pokut can get busy during high season but in the morning it feels like you have the entire mountainside to yourself.
If the mountaintop is too quiet for you, there are dozens of similar guesthouses, boutique hotels, as well as a few normal hotels scattered along the length of the Storm Valley that will have you close to nature and maybe even wifi, something that Pokut doesn't offer.
Other Tips
Planning on visiting Pokut Yaylası? Make sure to check out Palovit Waterfall (just 3 kilometers below Pokut Yaylası, but a winding 24 kilometer drive away) or stop at any of the Historic Bridges of the Storm Valley. Make sure to check out our other guides to Rize Province and neighbouring Trabzon Province.
Subscribe to The Art of Wayfaring
Have any tips or info to add? Spot any mistakes? We'd love to hear about it.