Neighborhoods of Istanbul – Eyüp Sultan and Pierre Loti Hill
/ By Josh
At the upper end of the Golden Horn, the ancient bay of Istanbul and Constantinople, is a sprawling complex of graves and mausoleums centred on one of the holiest sites in all of Turkey: the Tomb of Eyüp al-Ansari.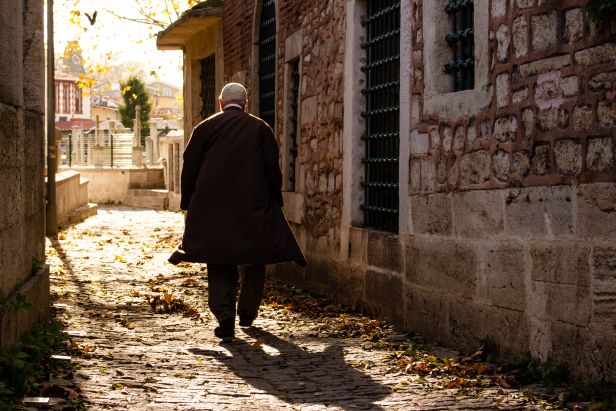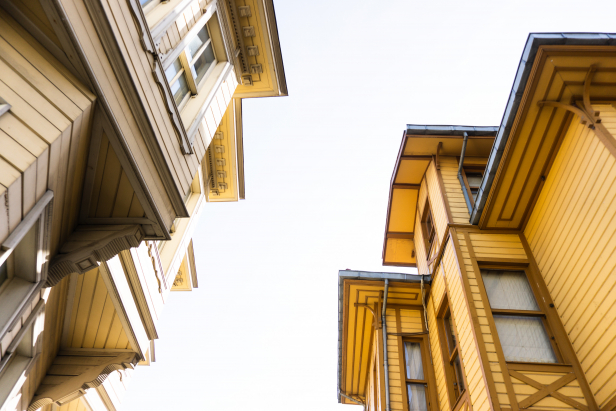 Surrounding the tomb of the Islamic saint there are classic Ottoman homes, countless mosques of all shapes and sizes, cafes, restaurants, and a high hill with a great view of the old city. All these have combined to create one of Istanbul's most unique tourist districts. While there are loads of tourists that come to visit Eyüp al-Ansari's tomb and climb Pierre Loti Hill, the vast majority are religious tourists; Muslims visiting the resting place of one of their saints.
Tourist shops abound, but what makes many of these unique is that most of what they sell is religious in one way or another. Many sell prayer beads, prayer rugs, water from Zam Zam, Qur'ans, amulets, and other religious items.
During religious holidays Eyüp becomes absolutely festive. During the holy month of Ramazan restaurants serve special Iftar meals and stay open late.
While the neighborhood of Eyüp is particularly popular with Muslims, it's a great place for non-Muslims to visit as well. The Architecture is fascinating, the history rich, and the window into another aspect of life and culture in Turkey is absolutely one of a kind.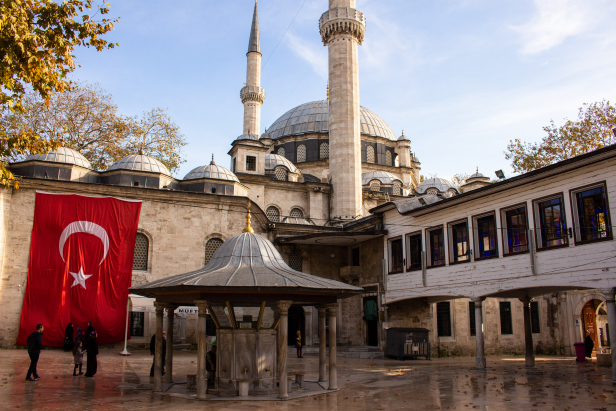 Why Visit?
Eyüp Sultan Mosque and Mausoleum
Eyüp Sultan Camii ve Türbesi
Cost: Free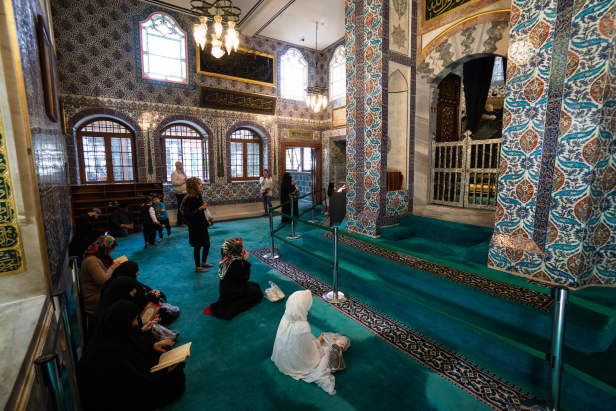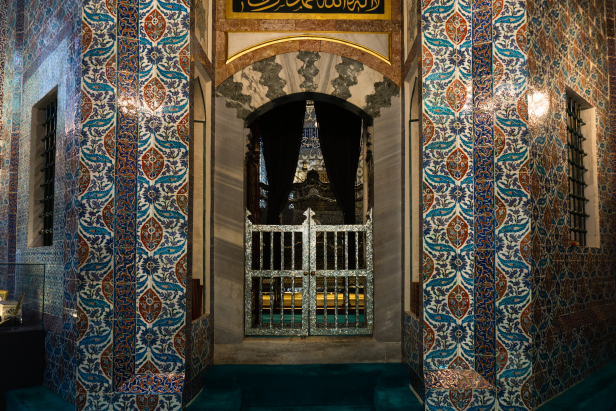 The importance and popularity of the neighborhood of Eyüp Sultan is rooted in the absolutely amazing story of Eyüp al-Ansari and the discovery of his grave.
Eyüp al-Ansari was a companion of the Prophet Muhammed, and a flag bearer in his army during the early years of Islamic expansion during the 7th century. Eyüp al-Ansari died during an assault against the Byzantines at Constantinople and with his dying breath requested that he be buried as deep into enemy territory as possible.
Centuries later, during the reign of Ottoman Sultan Fatih Mehmet, the city of Constantinople fell to the Ottomans, and Sheik Akshemseddin had a vision. He dreamt that the place where the Sultan had spread his prayer rug outside of the city was where the body of Eyüp al-Ansari would be found. The Sheik and a few attendants went to the spot and found a well-preserved body with an engraved stone stating that the body was that of Eyüp al-Ansari.
A grand mosque and mausoleum were erected at the site and the area became the traditional place where Ottoman sultans were crowned.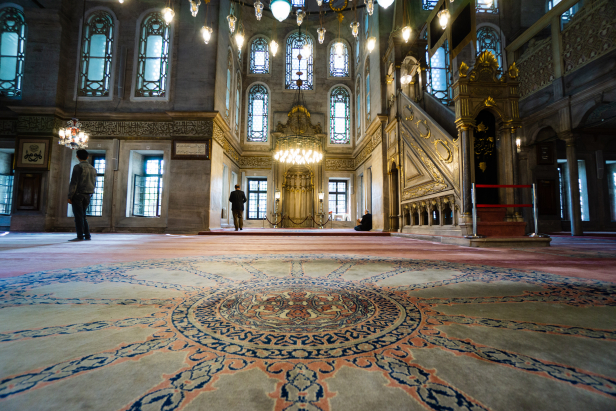 The Mosque eventually collapsed due to an earthquake and had to be rebuilt. The reconstruction of the tomb and mosque was completed around the year 1820 in what largely reflects the design of the original.
The tomb of Eyüp al-Ansari, though somewhat simple in design is magnificently adorned with Iznik tiles, wrought metal screens, and mother-of-pearl inlaid woodwork. In with the tomb is a small collection of other religious relics from the prophet Muhammad. Visitors come to pray beside the tomb, read Qur'anic passages, or sometimes just see the sight. Please keep in mind that this is one of the most sacred sites in the country so be sure to behave appropriately (see How to Visit Religious Sites for more on that).
Pierre Loti Hill
Pierre Loti Tepesi
Cost: Free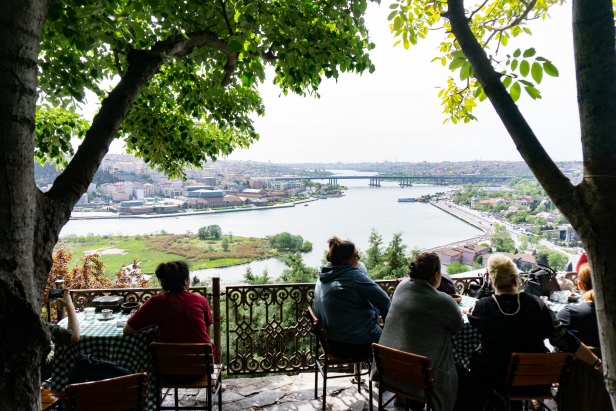 Just a short walk away from the Mausoleum of Eyüp al-Ansari (or a short gondola ride if you prefer) is the hill of Pierre Loti, a popular viewpoint full of outdoor cafes in the middle of the sprawling Eyüp graveyard.
Pierre Loti Hill takes its name from one of its famous visitors, a French naval officer and novelist (actual name Louis Marie-Julien Viaud) who fell in love with the city (as well as a particular woman as novelists are prone to doing when abroad) and wrote a pair of novels about his experiences called Aziyade and Fantom d'orient.
Today Pierre Loti Hill is one of the most popular places to sit over a cup of Turkish coffee and enjoy the beautiful views that a French officer fell in love with a hundred years ago.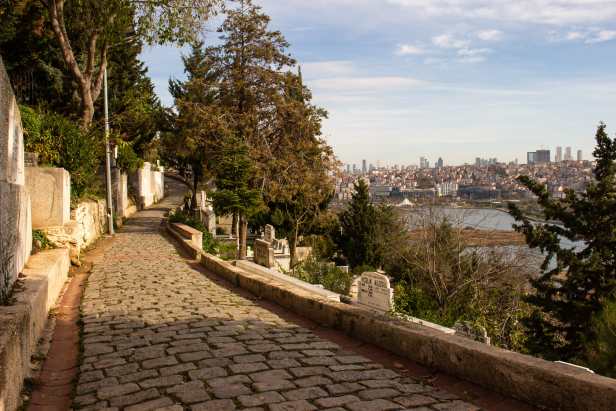 Graveyards and Mausoleums
Mezarlıklar ve Türbeler
Cost: Free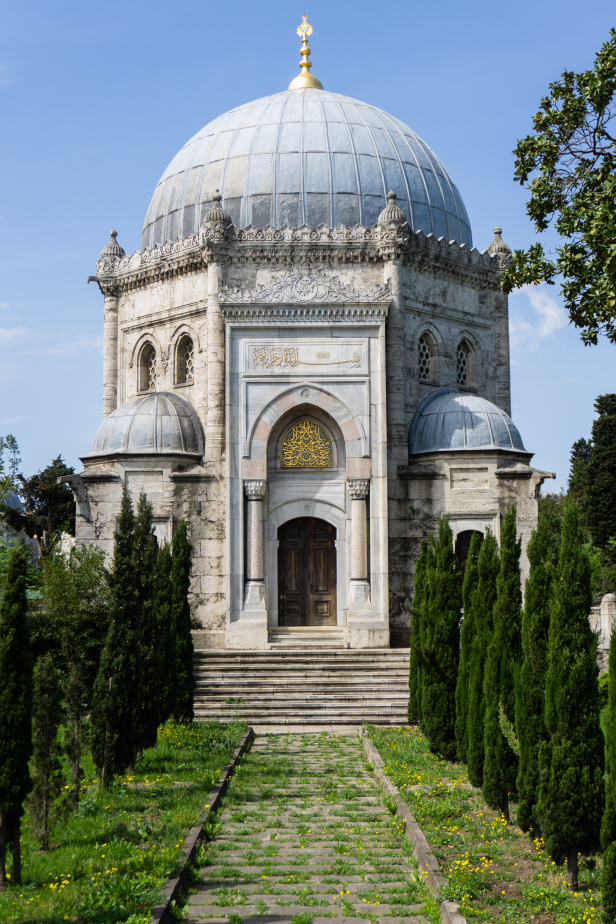 While a graveyard may not seem like a likely tourist destination, the Eyüp Sultan Graveyard is no ordinary cemetery. It is somewhat common practice in historical Turkey for people to bury their dead as near to great or holy people as possible and with a saint as important as Eyüp al-Ansari, the neighborhood grew to be an ever-spreading web of graves great and small. From Sultans and nobles to commoners, Eyüp became home to thousands of graves.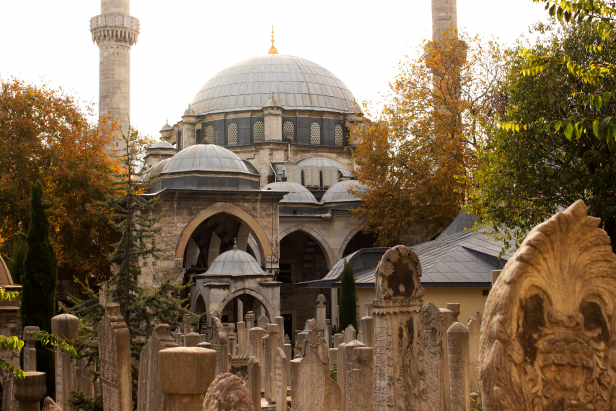 While the graveyards on the slopes of Pierre Loti Hill are for the most part new and simple, the graves down below, nearer to the mosque and mausoleum of Eyüp al-Ansari, are from the Ottoman period and offer exquisite examples of Ottoman era tombs and the mastery of stone carving.
Ottoman headstones are full of symbolism. Different shapes and styles denote class, trade, gender, age of death, and even if the deceased was an executioner. Executioner's graves were left without names to keep vandals from seeking revenge for the death of a relative.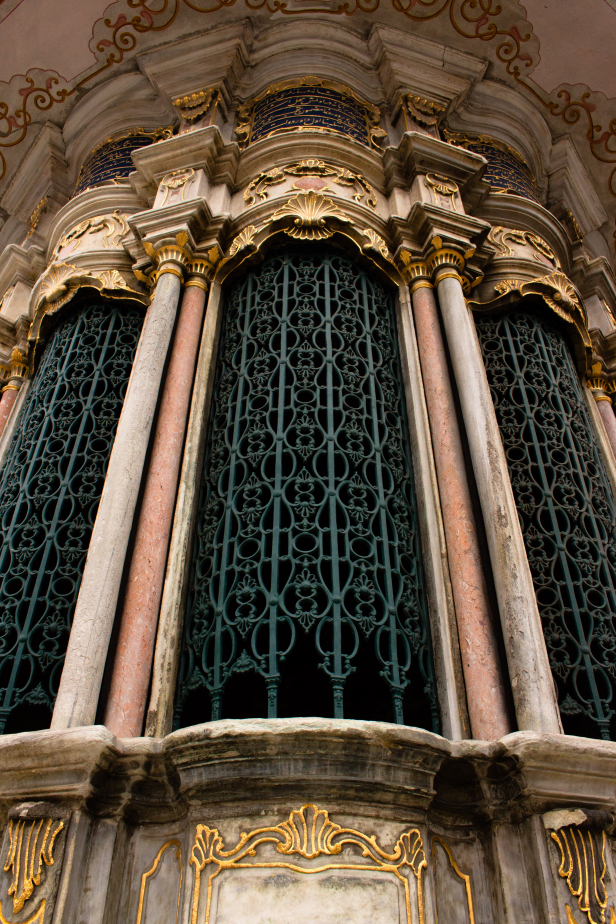 How To Get There
Ferry
While theHaliç ferry doesn't exactly run often or quickly, it is a nice way to get around. Consider it a budget cruise? The Haliç line runs from Üsküdar to Karaköy, Kasımpaşa, Fener, Balat, and on to Eyüp.
Bus
By bus from Eminönü station you can take the 36CE, 44B, 99, or 99Y to Eyüp, getting off at Eyüp İskelesi or Pierre Loti Teleferik.
Taxi
By taxi Eyüp Sultan is 10 kms from Taksim and 4 kms from Eminönü making it a cheap option, though it may be a bit slow if traffic is backed up.
Where To Stay
There are hotels right in Eyüp itself. If Eyüp is an important destination on your list of things to see then this may be a great place for you to stay. From Eyüp access to the other tourist sights of Istanbul is actually quite easy.
If Eyüp Sultan isnt at the top of your list of places to spend your time in Istanbul, then you may want to consider staying somewhere a little bit more accessable on foot.
Other Tips
Want to see more sights and destinations in Istanbul? Check out our full list of sights or The Istanbul Top 10.
Have any tips or info to add? Spot any mistakes? We'd love to hear about it.