Camuşlu Petroglyphs
Camuşlu Kaya Resimleri
/ By Josh
Cost: Free
Great for: Neolithic History, Rock Carvings, Prehistory, Petroglyphs
Etched into the high cliffs above the picturesque village of Camuşlu is a historical site rarely found in Turkey: petroglyphs, rock carved images dating back 10,000 years to the late stone age. The two panels at Camuşlu (one main large one and one small one) depict human hunters among great herds of deer, ibex, and mountain goats. While there are other petroglyph panels in the area they are very hard to find; even the locals we spoke to said they only had a vague idea of where they were in far away cliffs.
Subscribe to The Art of Wayfaring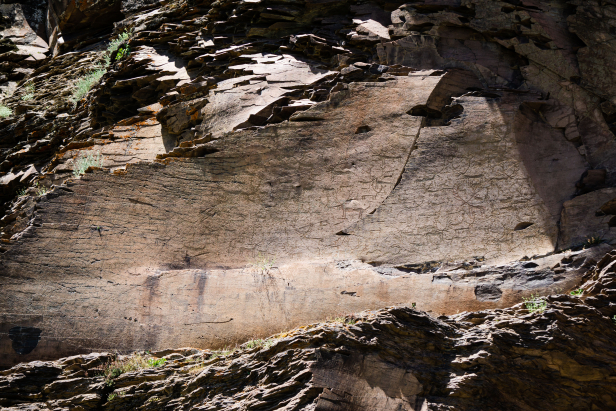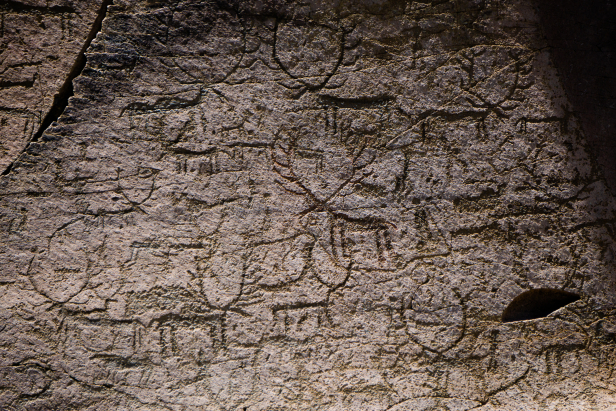 While petroglyphs of this sort are not common in Turkey despite its incredibly deep history, the Kağızman region is home to a number of sites like this.
The rock here is made up alternating layers of great smooth panels and fractured, slate-like rock that crumbles. The cliffs are not overly stable, and these petroglyphs could be lost in the near future.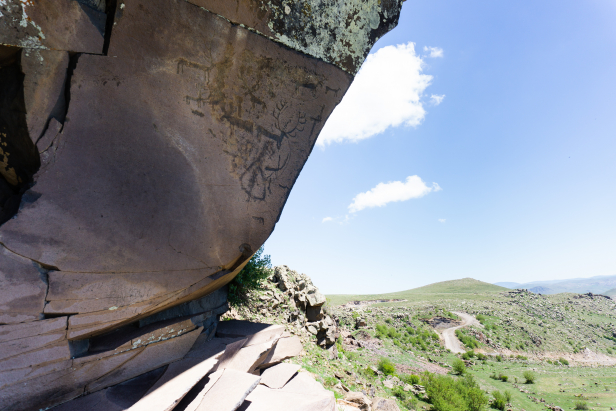 Most commonly known as the Camuşlu Petroglyphs they are sometimes referred to as yazılıkaya, meaning written, or inscribed rock. This name is a bit confusing as there is no writing and there are nearly a dozen other, much more famous places with the name Yazılıkaya, such as the site at Hattusha, or Midas Monument.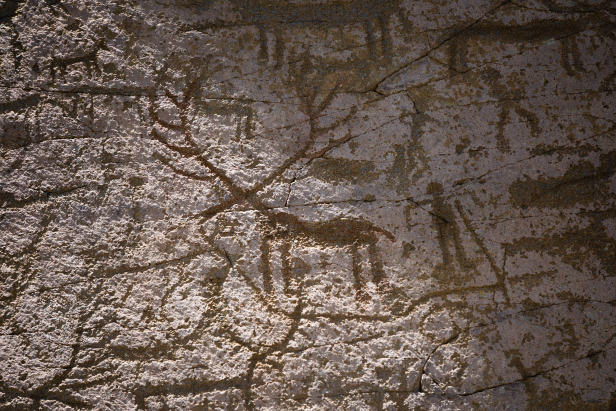 How To Get There
General
As these petroglyphs are carved into a rock cliff high above a remote village in a remote region of a remote province, they're not exactly going to be easy to get to. Apart from driving your own vehicle or some seriously ambitious hitch hiking you're probably not going to get here.
Head south-west of the City of Kars on the D965, and follow it south to the village of Dikme. About 60kms from the City of Kars you'll turn right (west) following the signs to the village of Camuşlu. Follow the signs through the village, staying roughly to the right, uphill, side of the village, and out the other side. Here the road will take a turn for the worse and you'll want to drive slowly and carefully for a few kilometres up into the high cliffs. When we visited, the sign marking where the carvings are was missing and so we went too far. If you find yourself at the top of a cliff on a high plateau you've gone too far. The petroglyphs are above a long narrow-ish flat area next to the final switchback below the road's summit. Park at this switchback and walk the remaining 100 metres if you aren't driving a truck or a tractor.
For more about car rental and driving in Turkey make sure to read our full drivers guide.
Where To Stay
As this is a rather remote site there are no accommodation options in the surrounding area unless you want to camp. The villagers were very friendly and hospitable so getting permission to pitch a tent or park a motorhome in a field should be no problem. If you're looking for hotels your best bet will be to stay in the City of Kars where there are lots of well priced, quality hotels to choose from.
Other Tips
Planning on visiting the Camuşlu Petroglyphs? Make sure to check out what other sights are in the region!
Have any tips or info to add? Spot any mistakes? We'd love to hear about it.