The Selçuk Camel Wrestling Festival
Selçuk Deve Güreşi Festivali
/ By Josh
Cost: 7TL
(Keep in mind that this is an annual event and the price is likely to change every year so this price will likely be wrong by the time the next event is held)
Great for: Camel Sausages, Camel Beauty Pageants, Camel Spit, Camel Musk
Every year on the third weekend of January the town of Selçuk and the countryside surrounding the ruins of ancient Ephesus are filled with the sounds and smells of camels. The massive animals, their handlers, and their fans all come for one of Turkey's most unusual spectacles: camel wrestling.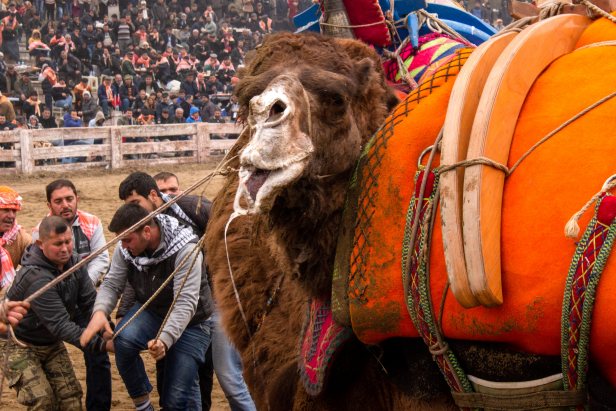 Camels wrestle?
Yes. Male camels are like most other males, human or otherwise, and they'll end up fighting for dominance when they get too close to one another when there are females around to impress. Camels, dressed up in colourful harnesses and saddles, will be led into a ring to face off against one another and shove each around. While the wrestling tends to consist of heavy drooling and shoving, some sudden action will occasionally break out when a camel goes for a more complex move in hopes to knock over or pin its opponent.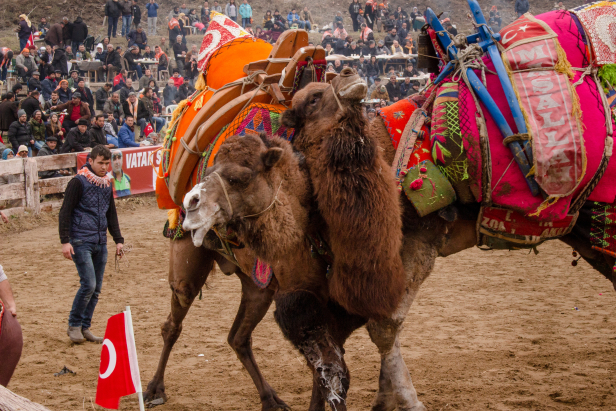 There are a few ways for a camel to win decisively. Firstly, if a camel makes his opponent run away, he is declared the winner. If a camel manages to lift his opponent and carry him, if he knocks his opponent down, or if he pins his opponent, then he is declared the winner.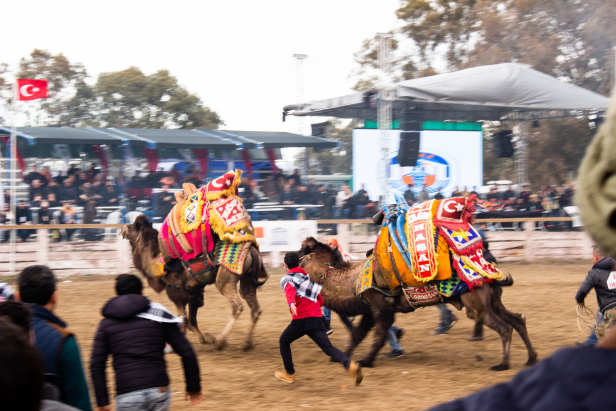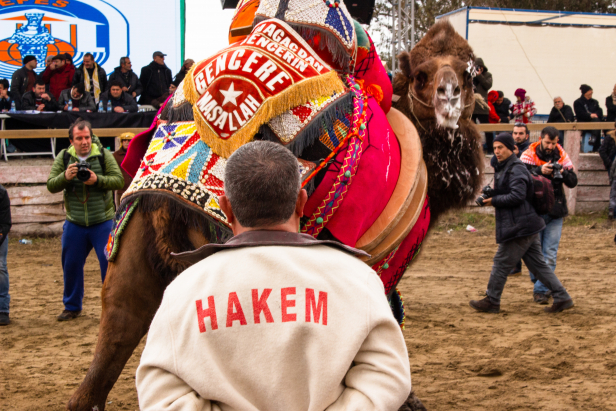 Much like in human wrestling there are names for the various moves that the camels make, and you'll hear the announcers use them as they give commentary over the maxed out sound system. There's even a referee keeping an eye out for cheating camels and handlers.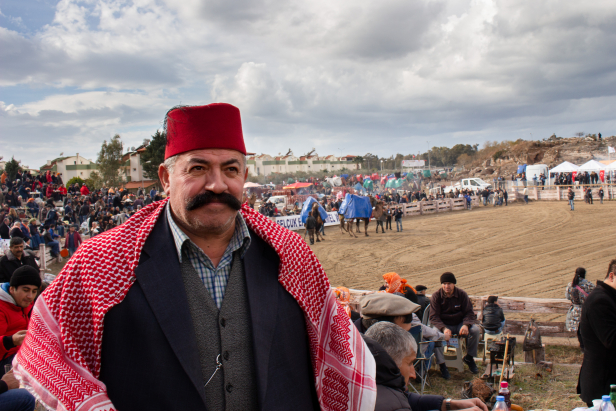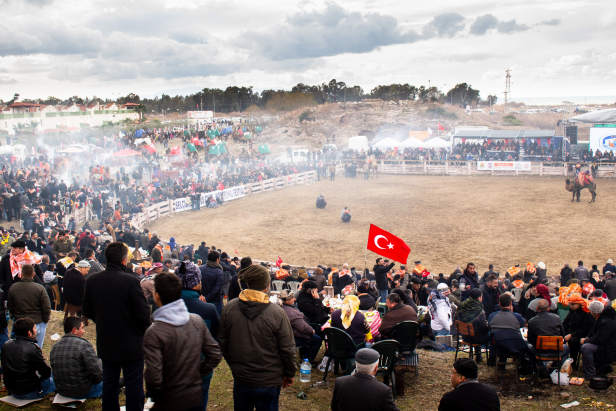 Chances are that, if you're not a local and don't follow the sport closely you'll find yourself as entertained by the spectators as by the contestants. The sight and sound of hundreds of locals wreathed in the smoke of barbeques, cigarettes, and wood burning tea kettles is spectacular. The mood is like a carnival, where the regional culture is being celebrated. Men dressed in local costume and traditional clothes strut around the natural earthen amphitheatre pausing to have their picture taken. Perhaps the best part of the Seljuk Camel Wrestling Festival is watching the spectators sitting right up against the barrier separating the camels and the audience. Many of these people came early to set up tables loaded with food right next to the action, only to have camels push right up against the low fence and get foamy drool flung all over them and their meal!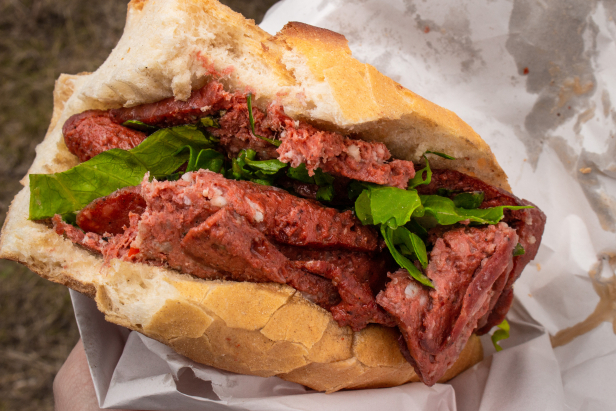 While Sunday is the main event, the festivities begin on Saturday in the town of Selçuk with a beauty pageant for the camels, markets, music, and smoking barbecues cooking up camel sausages.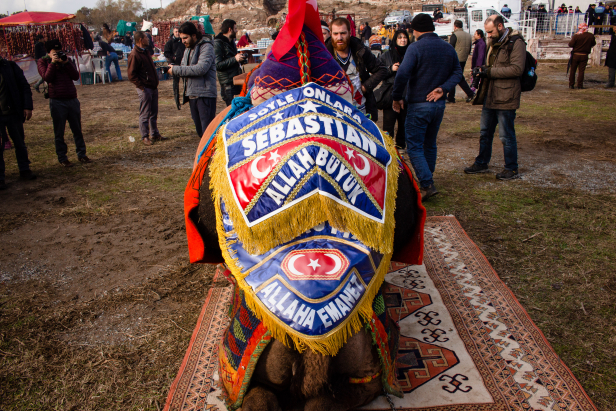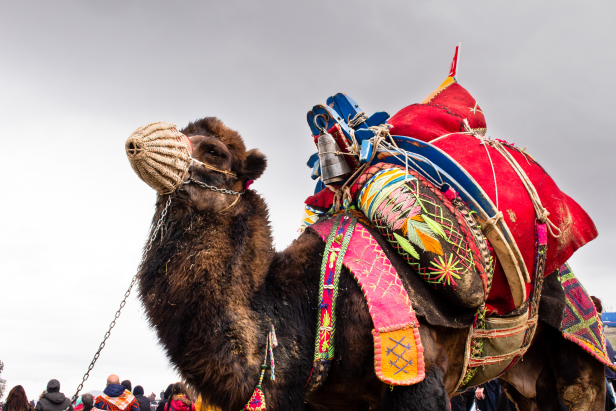 How To Get There
General
The festivities on Saturday take place in the town of Selçuk itself (Selçuk is a fairly easy to access town by car or bus from the major city of Izmir which is 65 kms away)
For more about car rental and driving in Turkey make sure to read our full drivers guide.
Car
The wrestling takes place about 9 kilometres outside of the town, west along the D515 highway. The highway runs directly out of town, past the Ephesus Ruins Museum, then takes a hard left to the south. Go straight on through this junction on the unnamed road until you see a bridge on your left, the fair grounds are just across the river. If you've made it to the beach just turn around and take your first right.
Other
Taxis are easy to find in Selçuk though they may be rather busy during the Camel Wrestling Festival. There is also minibus service to the wrestling ground that leaves regularly from the town centre.
Where To Stay
With the world famous ruins of Ephesus just around the corner, Selçuk is well set up to host visitors. There are numerous small hotels and pensions to choose from, all of which will have had experience with foreign (i.e. non-Turkish speaking) visitors. As the festival is held in January prices will be lower than usual and crowds minimal.
If you want to try something a little more unique, the nearby village of Şirince (7km away from Selçuk) is a beautiful classic ottoman village of white plaster tucked amidst green rolling hills. Here you'll find some of these old style homes have been beautifully converted into boutique hotels serving local wine and dishes; it's an awesome way to taste a bit of old Turkey. Busses run occasionally between Selçuk and Şirince if you don't have a car or don't want to use a taxi.
Other Tips
While there are plenty of vendors selling food and drinks you may want to bring some of your own if you're not into eating camel sausage. Another good thing to take along is something to sit on as the amphitheater isn't particularly comfortable.
Planning on visiting the Selçuk Camel wrestling Festival? Make sure to not miss the ruins of Ephesus, St John's Basilica, the village of Şirince, and Ayasuluk Castle, all in the immediate surroundings of the town of Selçuk.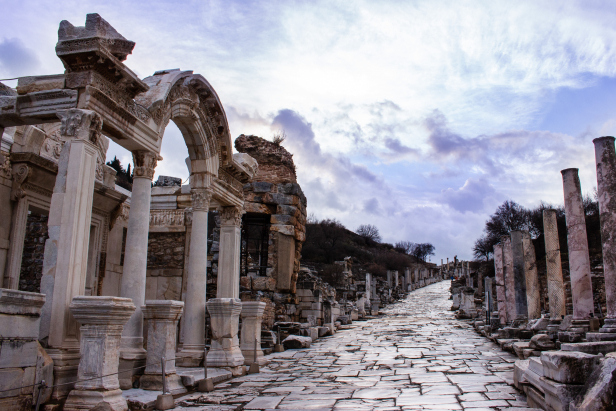 Planning on visiting Selçuk? Make sure to see what other great sights are in the region!
Have any tips or info to add? Spot any mistakes? We'd love to hear about it.