72 Hours in Istanbul
/ By Sean
Cost:
Great for: Church History, Great Food, Photo Ops, Culture, Shopping, Art, Ottoman Architecture
If you've only got 3 days to see Istanbul and can't decide how to fit it all in, this is for you. Welcome to another installment of our Staff Picks for 24- and 72-Hours in Istanbul. If you want an introduction to the series, check out my 24-Hours in Istanbul.
Since you've only got three days don't let me steal it with any more ado.
Why Visit?
DAY ONE
This day will start with history, move on to some markets, and end by the sea. You'll hit a few of the most popular destinations in the city and then start to move off the beaten path in the coming days.
Prelude: Breakfast
Since you're going to be here more than a day, you will have the opportunity to try a wider variety of Turkish dishes. One of my personal favourites is a good Turkish Breakfast which is a variant of serpme kahvaltı. Though most hotels will serve some version of this, it's worth spending a few extra lira for a better experience. (Side note, if you find yourself in the Karaköy district at any point, one of my favourite breakfast places in all of Istanbul is Van Gölü Kahvaltısı.)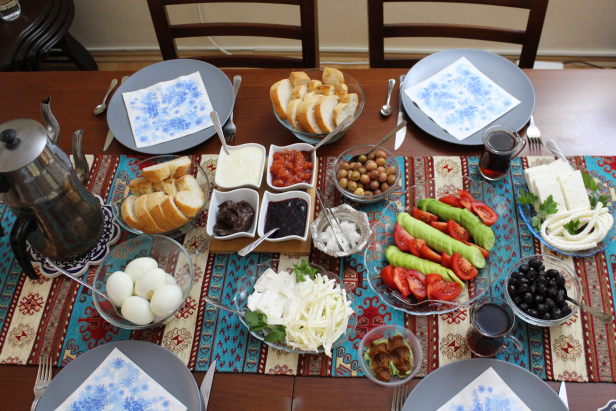 1.      Sultan Ahmet Camii: The Blue Mosque.
If you've read my 24-Hours in Istanbul Staff Pick, you might have noticed I didn't include the Blue Mosque on the list. It is an impressive and famous attraction, but in my opinion there are more beautiful and interesting places to visit. But this one is free, and you can pop in after you wander by the obelisks and other nearby antiquities. I recommend going to the Blue Mosque before the Hagia Sophia or anything else because it only takes about 15 minutes (if you don't get caught in line) and doesn't have as much to explore as other sites.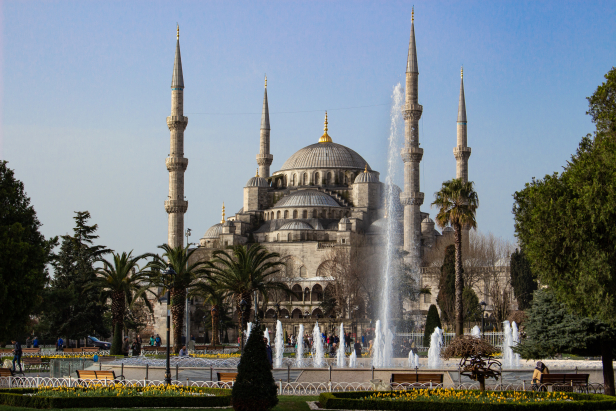 If you've never been in a mosque before, you can get some pointers for how to show respect from the article we wrote about that here.
2.      The (Former) Church of Holy Wisdom: Hagia Sophia.
For centuries it stood as one of the largest buildings in the world. I can't imagine how striking Hagia Sophia must have been to people in the middle ages as they sailed toward Constantinople, especially from those coming from the (relatively) underdeveloped area of western Europe.
Built in 537 AD, Hagia Sophia has weathered fires, earthquakes, riots, and the fall of two empires. It started as a significant church, was converted to a mosque, and finally became a museum. Now it hovers somewhere between mosque and museum as it is occasionally used for namaz (prayer) on certain special days. Its interior is astounding and must have been otherworldly at its height.
Subscribe to The Art of Wayfaring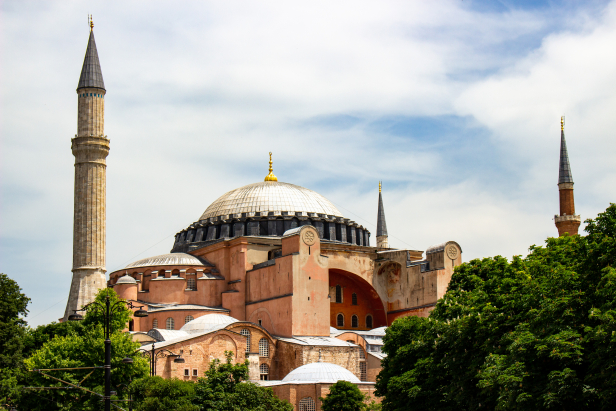 If you're quick, it will take about 45 minutes to go through, but when I'm taking people I usually leave 1.5 hours to take it all in.
This is a good time to stop for a snack. There are some expensive tourist cafes right in the square across from the exit you just came out and beside the fountain. They serve some good stuff, so you can explore a bit. But I'm partial to Edebiyat Kıraathanesi (found directly across the tracks from Hagia Sophia) when I'm in the mood for sweets and Green Corner (found just behind Hagia Sophia) when I want something savoury.
When you've rested a bit, move on to the next stop.
3.      Istanbul Archeology Museum
Istanbul has had human settlement for several thousand years, and Turkey is home to the many of the oldest civilizations in human history. It shouldn't come as too much of a surprise, then, that if artefacts are your thing, there's a museum here for you.
Recently renovated and still undergoing some upgrades, the impressive IAM holds artefacts from almost every stage of human civilization. It far exceeds just Turkish history. You'll find Egyptian, Arab, Babylonian, Greek, Roman, Byzantine, Hittite… and a bunch of other folk's stuff in there. There are currently three active buildings and some larger pieces in the courtyard, so take some time to go through but don't doddle too much. I'd give the history lover 2 – 2.5 hours to look around but you can do it quicker if you're inclined.
From here we'll head toward but not into the Grand Bazaar. It's already time to eat. Get on the tram heading toward Bağcılar and get off a few stops later at Kapalı Çarşı – Grand Bazaar.
Interlude: Lunch
The area around the Grand Bazaar is full of second-rate, hiked price tourist traps. But you know someone who knows someone who found a great place. I highly recommend a hidden ev yemekleri place. Ev yemekleri means "home cooking" and it will probably be a little different than most of the other foods you eat in Turkey. The price is right, the cooking is great, and it's located just close enough to the Bazaar to be convenient. There's next to no wait time because they are constantly restocking the food throughout the day.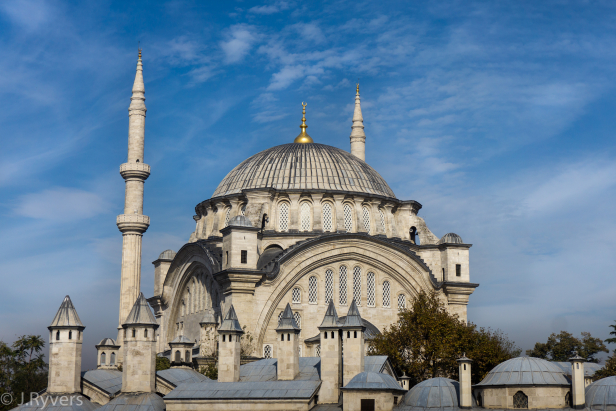 To get there, you can walk into the Bazaar and turn right on that first wide street. Walk all the way to the end and head out "Gate 1" from the bazaar, also known as Nuruosmaniye Kapısı (don't worry, you're coming back). You'll walk by a mosque with the same name. You'll walk straight down a walking street with some good coffee shops, then take a right to a side street. A couple blocks down that street, there is a side street off the side street (trust me, this is worth it!) When you get to the restaurant it might just say "Şener Silver" on the door. Go in there. To make it easier, follow Google Maps to your destination: No. 11 Gazi Sinan Paşa Sokağı.
Alternatively, you can just put that address into your phone and avoid the shortcut through the Bazaar.
Enjoy your lunch! When you're done, the good news is that you're only about a block away from one of the 16 entrances into the next site.
4.      The Covered Market: Grand Bazaar
Known in Turkish as Kapalı Çarşı, the Grand Bazaar is a network of several covered city streets that are packed with thousands of shops that have been in use for at least 400 years. In peak tourist season the streets between shops become almost impassably full with Turkish and foreign visitors. If you want, you can buy plastic tourist trash or 8000E scarves. The costume designers for films like Troy and Star Wars also have shops in the Bazaar. Turkish gold, WWII memorabilia, and rare antiques pack out some of the lesser-traveled corners. And don't be deceived, there's a lot in the middle range, too. Be shrewd as you shop and enjoy the experience.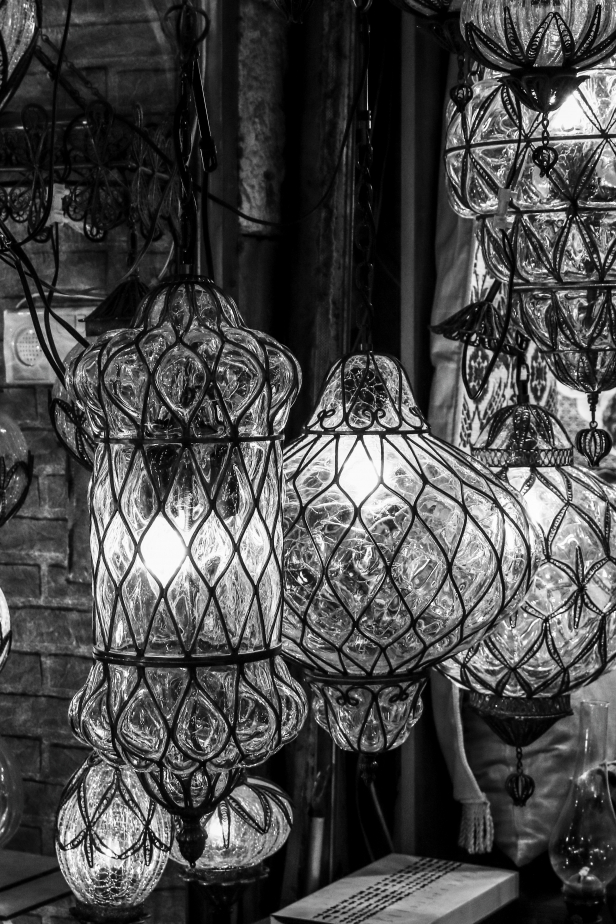 How long you stay is totally up to you. An hour is lots if you aren't doing any heavy shopping, but if you get lost inside (which will happen to 95% of you) or want to spend some energy exploring, block off extra tıme.
If you're looking for something truly local and inexpensive to buy, don't get it here. You're about to have a very authentic local shopping experience. Head out any of the north entrances and try to find a major street. The best one (if you're close to it) is Mercan Kapı. Whatever door you exit, head for Uzun Çarşı Sokağı. That's the main artery heading down.
5.      Tahtakale
Now you find yourself in a place that residents of Istanbul will shop. The actual neighbourhood called Tahtakale is closer to the water of the Golden Horn, but the greater shopping district has expanded to absorb all the streets between the Spice Market and the Grand Bazaar.
This is the closest thing you'll find to wholesale shopping in Istanbul. Shopkeepers from around the city get their wares and raw goods for here and resell them from storefronts. Goods are arranged according to type across numerous city blocks. There's a place for plumbing, a place for wedding clothes, a place for leather, a place for camping gear… and just about anything else you can imagine.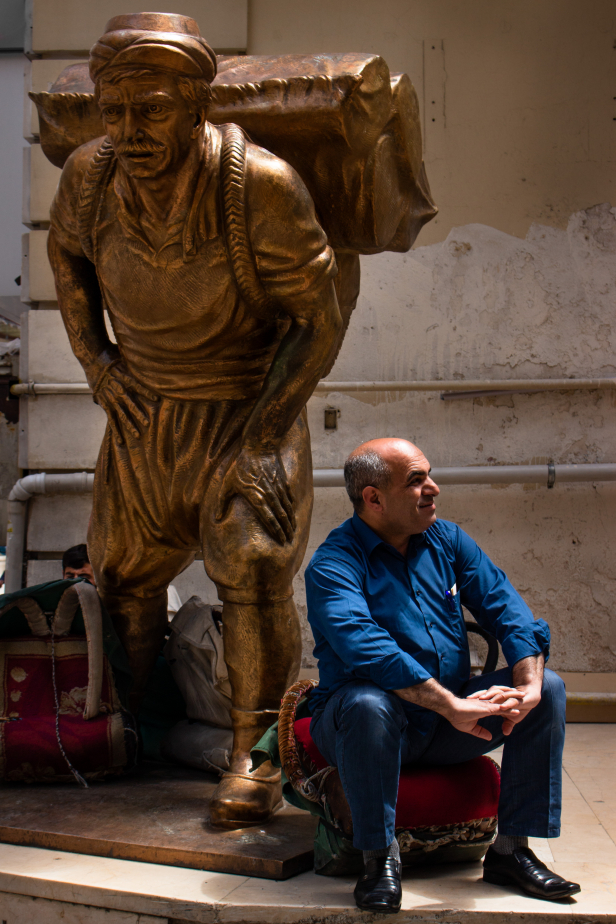 Like I said, this stuff will mostly be cheaper, which will appeal to some but not to others. But there is more than just shopping. You can find some great vistas and photo-ops by wandering into the side streets and old "hans" of the past. A han is an enclosed commercial courtyard. Many are still used as workshops and storefronts.
If you are shopping and exploring, leave about 1-2 hours to walk through this area. Otherwise, 25 minutes should do it.
Keep heading generally downhill/north even if you decided to explore side streets. To hit our next waypoint, you'll want to stay close to Uzun Çarşı Sokağı or just find your way there using your phone.
Interlude: Snack
There's more than a few options to grab a snack in this neighbourhood. If you find something you like, try it, but I recommend taking the opportunity to grab some Turkish Baklava. Stop anywhere that catches your eye in this neighbourhood, but my recommendation is Faruk Güllüoğlu Baklava. You can find it on Çınar Caddesi.
As you move downwards (using Sabuncu Hanı Sokağı), the crowds will get denser and the streets will feel more and more "Middle Eastern". That's a good sign you're coming up to our next site and final market for the day.
6.      The Spice Market.
Also known as the Egyptian or more rarely the Corn Market ('mısır' in Turkish means both), this is the smaller companion to the Grand Bazaar. In my experience, more local and Middle Eastern tourists frequent the Spice Market than the Grand Bazar. Historically, it was the initial unloading point for textiles, spices, and precious knickknacks coming into Istanbul. Now you can find a variety of things, but edibles, soap, woodcraft, and tourist trinkets dominate most stalls.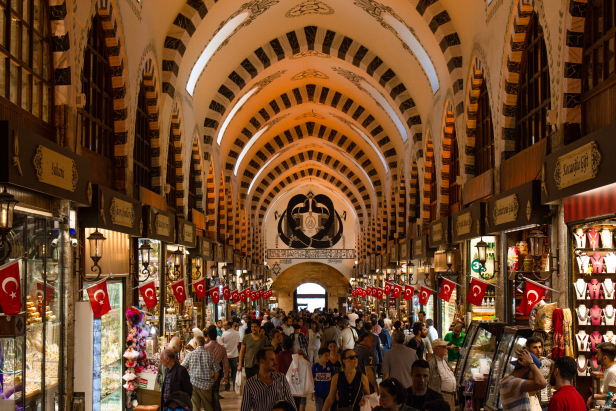 If you love cooking with saffron but cringe at the price, this is the place for you. Ask to see the "Turkish" saffron at one of the spice booths. It's not as healthy (because it's a lower quality cut) but the taste is the same for all but the most refined pallets.
Most people can walk through this market in about 30 minutes, even if you stop to try a few things. Shop keepers tend to be bold and a bit pushier here so feel free to give them a polite nod and move on if you're not interested in what they're selling.
Our next stop is just a few paces away.
7.      Supper: The Waterfront.
By now you've walked a bunch and have seen a lot of new things. A slow supper while you relax and watch the city will do some good. If you head to the edge of the Golden Horn out of the north entrance to the Spice Market and turn to your left, you'll notice about half a dozen restaurants nestled under the bridge. If you're a seafood person and aren't on a tight budget, walk along the boardwalk and pick out what day-catch you'd like to eat. From there you can sit and watch ferries cross by and the Turkish men fishing off the pier and the bridge.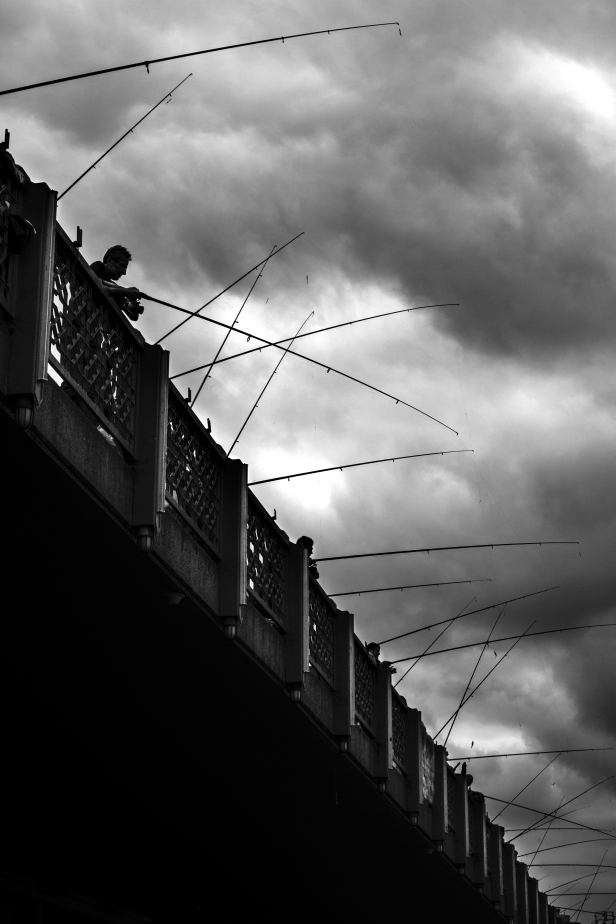 If you are on a budget but still want a taste of fish, head to the open area on the west side of the bridge and grab something from one of the sea-food boats that sell their goods on the edge of the water. The most famous is Eminönü Balıkçısı.
There are also a handful of regular restaurants huddled close to the Spice Market for those of you who aren't into fish. Take a look at the prices on the menu before you sit down; it's a mix of exorbitant foreigner-pricing and reasonable local eating.
8.      Hotel or…
We won't blame you if you're ready from bed. You can head back using one of the taxies that are always waiting on the road between the bridge and the ferry terminals.
But there's always more to see. For those of you who want a classic Ottoman experience, there are narilge cafes (hooka) scattered all along the waterfront. Any of these nargile cafés with a view will make for a memorable evening.
To get there head uphill east of the Spice Market and watch for signs. They are everywhere! If you don't want to lose time searching, just type "nargile" into Google maps and pick one. Let your wayfaring intuition guide you.
DAY TWO
No markets today, my friends. This day will take you through our two favourite neighbourhoods in Istanbul: Fener and Balat. Traditionally the Christian and Jewish neighbourhoods of the old city, they've managed to retain a hint of what the old poets talked about when they came to Istanbul. Then we'll head across the Golden Horn to see the Eiffel Tower of Istanbul before finishing on the most famous walking street in the city.
Prelude: Breakfast
Maybe you loved your Turkish breakfast from yesterday. Feel free to grab another and try some new dishes. But I also recommend trying menemen; an egg and veggie breakfast. It just so happens that the first stop of the day in right next to an amazing family-owned café that serves great menemen. The garden where they grow the ingredients is across the street from the restaurant. As far as I know, there's no fresher menemen you can buy in Istanbul.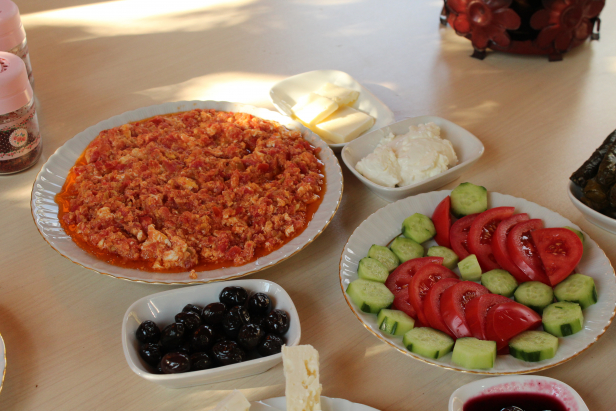 It's called Ma'ide Café and it is located in Fener. You can find it by typing that in to Google maps. It's near the Fener bus stop on Ayvansaray Caddesi. Your first official stop of the day is just down the street from this restaurant so when you're done head left and keep your eyes open.
1.      The Patriarchate of the Greek Orthodox Church
Istanbul was the site of some of the most important events in church history, but it still surprises many that the head of the Greek Orthodox church lives in Istanbul today. This site is an active monastery and church, but it is open for visitors during the day. Step in and take a look at hundreds of years worth of mosaics, icons, and carvings. The church is home to a few graves, too. Significantly, one of the women who claim to have seen Jesus Christ after the resurrection is interred there. There are a number of other relics (sacred human remains or objects associated with saints) housed in the church. For more details check out out our full guide to the Greek Orthodox Patriarchate.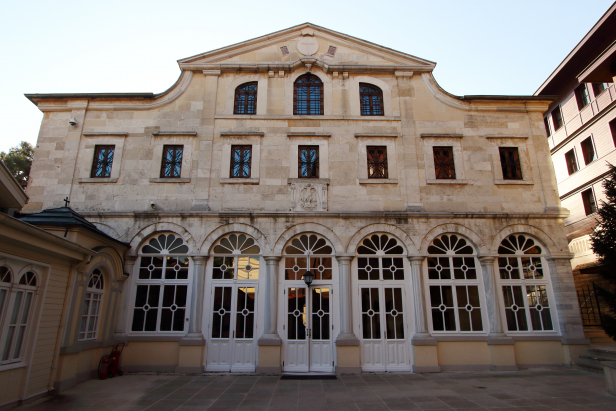 If you arrive very early in the morning or just before it closes (4:30pm most days) you might also catch some of the pageantry of an orthodox prayer service.
This is usually a quick stop for most people. Plan for about 20-30 minutes.
Leaving the front gate, turn left and head up the cobbled street you find yourself on.
2.      Walk through Fener & Balat
These neighbourhoods are going through a bit of a renaissance. Small, trendy cafes are beginning to cater to a clientele that didn't exist a few years ago. It's local but it's very different from other places you'll visit in the city. Take time to wander through the streets. If you're into antiques, you'll find lots of stores along the way. Try a specialty drink or a new dessert. Duck your head into workshops you might see along the way, too. You might find one of a kind buys inside. For a more detailed treatment of this area, check out our full guide to the Neighborhoods of Fener and Balat.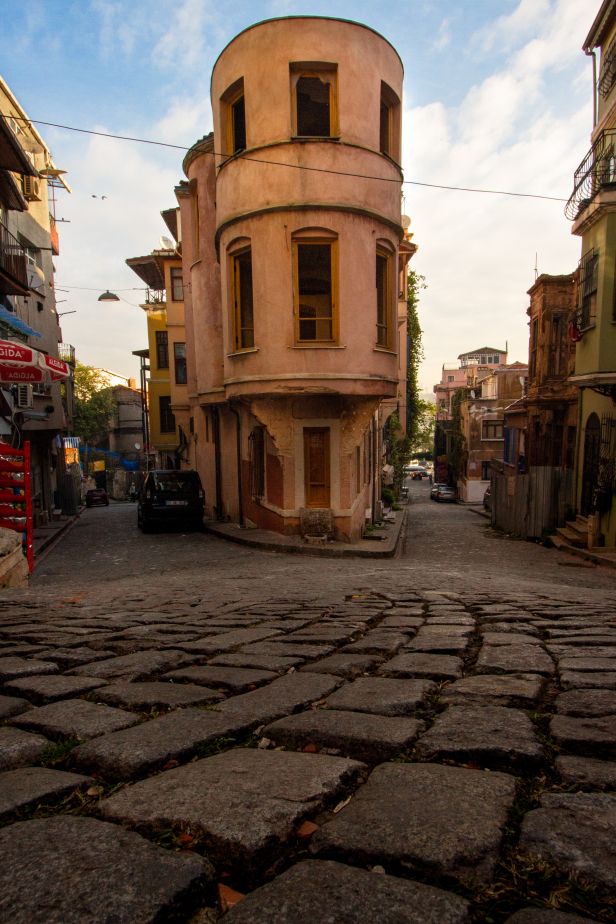 Make your way up toward the big brick building on the hill; it's a Greek Orthodox private school. From there, you can head to our next destination: Chora Museum.
If you go quick, you can walk from the Patriarchate to Chora in about 25 minutes. If you want to take your time, budget at least 45 minutes.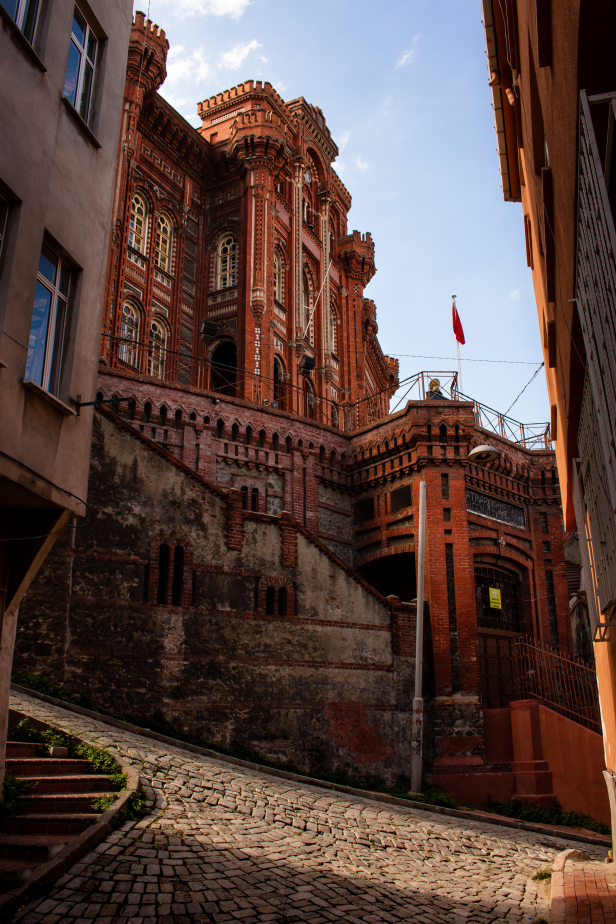 3.      Chora Museum
Most of the churches and monasteries from Constantinople were converted to mosques in the centuries following the arrival of the Ottomans in 1453. Chora is a rare example of one that has made the transition away from mosque to museum. The mosaics and frescos were partially preserved by Muslims that merely covered them over with plaster to make the space conform to Islamic rules of prayer. It is widely regarded as one of the best-preserved Byzantine chapels in the world.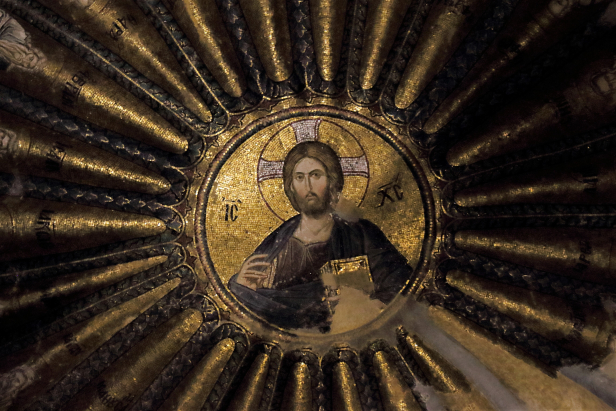 You'll crank your head upward in here for about 40 minutes if you linger.
Interlude: Lunch
Attached to a nearby hotel is the excellent Asithane: Fine Ottoman Cuisine Restaurant. It serves modern interpretations of classic Ottoman food. It's far more flavourful than most Turkish cuisine that you'll eat on your trip. There is dining inside for rainy days, but if you can do it, sit in the garden. A great setting for great food. It's pricier than most places I recommend, but worth it if you've got the money.
To get to our next destination you'll want to get on transit. Head north past Chora Museum and through the streets until you get to the Golden Horn. Many of the buses that pass there will take you to Eminönü. From there, get on the tram and head across the Golden Horn to the district of Karaköy (get on heading toward Kabataş).
On your way, you probably caught a glimpse of the famous Galata Tower stabbing up through squatter buildings all around it. That's your destination, but the walk up shouldn't be wasted.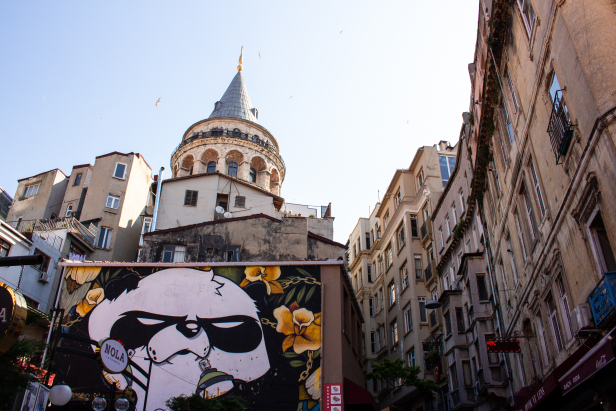 Starting from the tram you got off, feel free to explore the hidden staircases and back streets of the area as long as you keep yourself oriented generally toward the tower.
This is the area I recommend to people to buy postcards and souvenirs. When it's warm, you'll probably stumble across street musicians and some of the more bohemian segment of the city's population. This part of your day will feel quite a bit more modern than our last two stops.
The walk will take an average person 30 – 45 minutes. How long you spend browsing in shops is up to you, but don't get too bogged down because the best ones some a little later.
4.      Galata Tower
The Eiffel Tower of Istanbul. Never heard of it? I hadn't before I moved here either, but to many locals it's the true symbol of Istanbul. The tower's original name was Christ Tower. In its day it has been used as a military fortification, a fire watch station, and finally a visitor's attraction. The café inside isn't cheap, but it is good. There are often long lines to get to the top, and authorities wisely limit the amount of visitors they admit at any one time so as not to cause a people-clot. If you are a photographer, this will be one of the best vistas you'll find in the city. Go up if you feel inclined, but a look around the base is also worth the walk.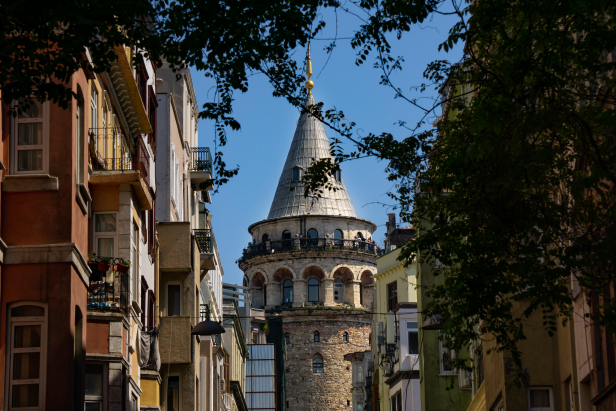 If you go in and don't eat, I recommend 30-45 minutes depending on how much you like views and feeling like Rapunzel.
Leaving Galata Tower, continue uphill the on the street that you came up (called Yüksek Kaldırım Caddesi) until you reach Istiklal Caddesi. It's only about 5-10 minutes farther up.
5.      Walk Istiklal
You're now on one of (if not the most) famous walking street in the city. Shops of every description, all kinds of restaurants, a few museums, some dance studios, and even a number of consulates line the street. A retro red tram runs along it, too, as it scatters people walking on the tracks.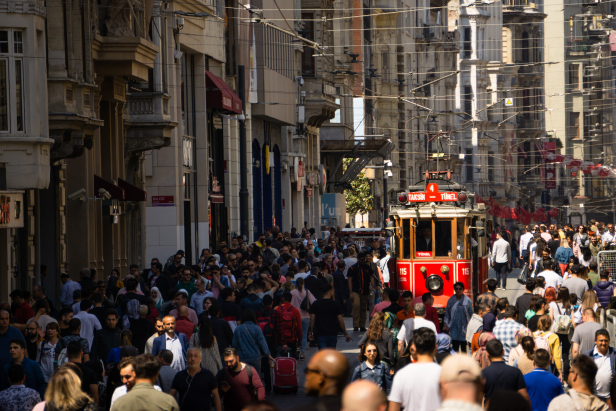 You're going to be on this street until supper. This is a great place to get clothes and see some local art, if that's your thing. Make your way toward Taksim Square, which signals the end of the road. The whole walk is only about 20 minutes if you rush through, but if you take your time and shop you could use the rest of the day.
There's a lot on this street. Don't be intimidated by the book stores and publishing houses; all the ones I've gone into have English sections. (And German and French and Russian…) Duck in and explore anything that catches your eye.
Don't get pickpocketed, and don't follow anyone into a basement. The main street is quitesafe, but some of the side streets include some unsavoury establishments that aren't places you want to visit.
Interlude: Supper
You will find my favourite restaurant in all of Turkey not too far from the famous Gezi Park. Turn north onto Atıf Yılmaz Caddesi and keep your eyes to the right. Tarbuş is waiting for you there. It is a Syrian food establishment run by and frequented by Syrians. The staff is fantastic, the food is better. It's a flavour party and everyone is invited. Prices are quite good and portions are big. I suggest trying as many different dishes as you can, and don't miss desert.
It's the end of a long day filled with walking. If your hotel is located close to transit, you can use the metro from Taksim to get back. But a taxi is always an option.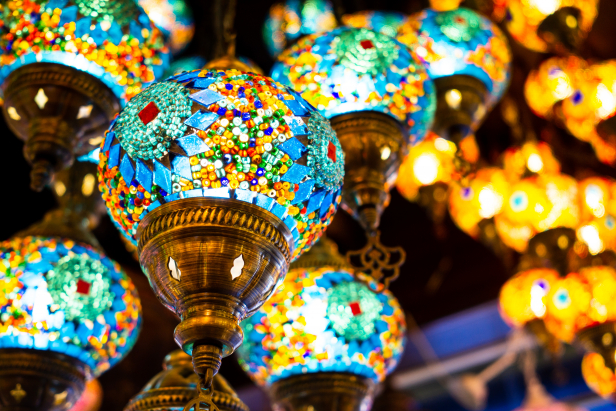 DAY THREE
On this third and final day of my Staff Picks Istanbul list, we'll head over to the Asian side. You've walked a lot if you've followed my guide, so I'm going to take it a little easier on you today. You'll even be on wider, less crowded streets. You'll glimpse a wealthier, religiously conservative neighbourhood in Üsküdar and stroll through the place where the first theatres and bars began to break out of the Ottoman mold in the Kadiköy district.
I imagine you'd like a sleep in. This day's itinerary can be completed in as little as 6 hours at a reasonable but quick pace, so you have time to sleep in before brunch.
Since you're crossing to a new continent, it starts on the water. Head toward the Eminönü – Kadıköy ferry terminal which is near the Spice Market you visited on the first day.
1.      Ferry to Kadıköy
The Bosporus sets Istanbul apart from other world cities. For less than a dollar (just a couple lira) you can jump on a ferry and be across in as little as 10 minutes depending on your destination. I'm recommending you don't have breakfast on the European side; wait until Kadıköy.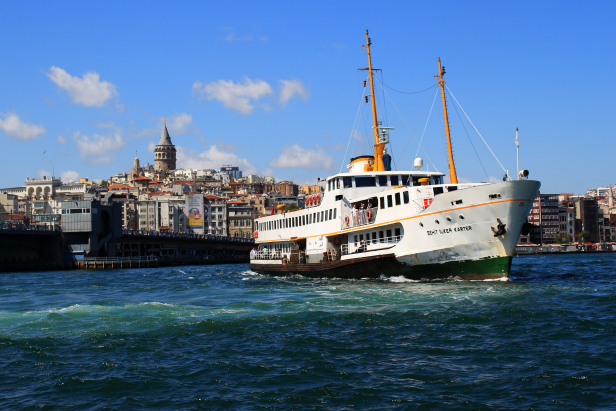 From your hotel, get down to the Eminönü – Kadıköy ferry terminal. Take a million pictures as you sail past Hagia Sophia, Topkapı Palace, and the Blue Mosque on the water. You have about 25 minutes on this boat, so grab a çay or coffee and relax. If you're really lucky and you visit in the summer months, you might even see dolphins in the water as you go (we have!).
Interlude: Brunch
I love Turkish Breakfast and eat it regularly. If you feel like it, you can find many great places that serve breakfast in this district. But if you want to try something new, grab yourself some börek; a savoury, flaky breakfast pastry that's filled with a stuffing of your choice (usually meat, cheese, spinach, potatoes, or some combination of that). My favourite börek place in Kadıköy is very easy to find: Kadıköy Merkez Börekçisi.
2.      Kadiköy's Walking Streets
I love the bustle of these streets. Kadiköy is a large district, but it's central portion is alive with another market and a tangle of streets that are home to theatres, artists, restaurants, cafes, and shops. I'm going to give you a quick list of a few things that might catch your attention, but I urge you just to explore and discover. You can easily spend the next few hours here.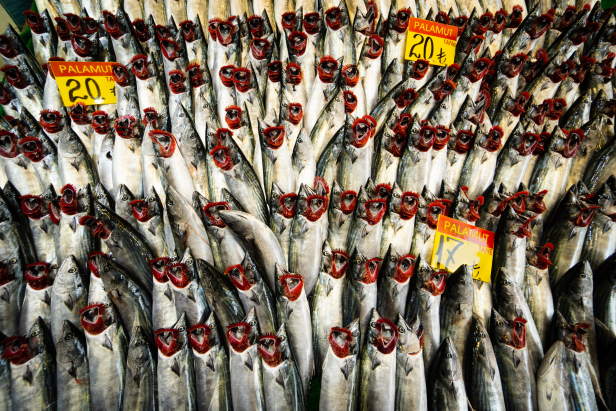 First, walk through the market. If you want some fresh honey, herbal tea, Turkish Coffee, or anything else like that (that you haven't already found elsewhere), this is the place to buy it. Like Üsküdar, this is a more authentic and local version of the markets you saw on your first day. Real Turks shop here, so you won't contend with as much of the pushiness or inflated pricing that comes with a tourist area.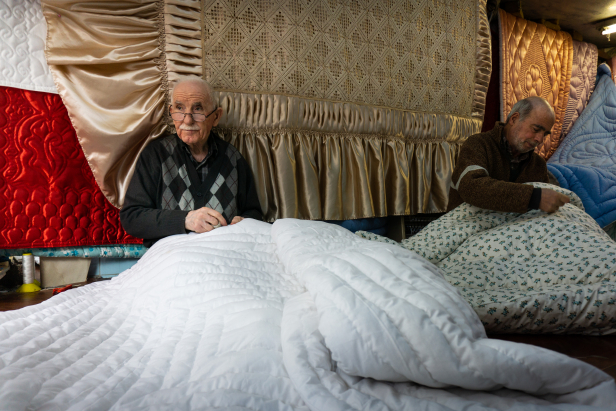 After that, head toward what interests you the most. Frankly, Kadikoy doesn't have the same beauty and mystique that you find in the old city, but that doesn't mean there's nothing to discover.
For book collectors: Check out the book passage, also known as Akmar Pasajı. It's two stories of, well, tunnels basically. The majority of books are in Turkish, but the atmosphere is fun. The basement is also home to a metal head who has been selling classic rock records since before the Byzantine Empire.
If you'd like something a little classier, look through the stacks at Imge Sahaf. The entry looks tiny but go right in; there's a large basement section. You can get old maps, antique books, and rare prints there if you're lucky.
For antique hunters: There are several blocks of antique stores in this neighbourhood. Items range from junk to bulky, valuable collectibles. Feel free to browse just for the novelty or find yourself something really unique from the ancient orient.
For history buffs: There isn't a lot left standing from ancient Chalcedon, the Greek/Roman city that was founded around 685 BC. But there are a couple churches on the principle walking streets (one Greek and one Armenian) that are usually open for a peek during the week. For a more impressive structure, head up to Aya Trigia (Church of the Holy Trinity).
For people looking for a view: Make your way down to where the ferry docks are. There's a great view of the old city and Galata Tower from the waterfront. You can also climb up to the rooftop terrace in the nearby Starbucks for an elevated perspective.
For patrons of the arts: Sürriya Paşa Oprası (Surriya Pasha Opera House) is a beautiful building that is found a little deeper into Kadiköy. You know you're on the right street if you can see the tram tracks on the road. If it's open, go in and take a look and if you're really lucky and have a mind to do it, take in a performance.
For those buying clothes: On the edge of the fish market you'll find a number of shops similar to what lines the fringe on the Grand Bazaar. The shopkeepers tend to know a bit of English or have a friend that can help. There's also a bunch of knock-off outlet stores (yes, that's a thing) and just plain old stores on Halitağa Caddesi if you are interested.
For those addicted to sugar and caffeine: You have about 238, 387 options in Kadiköy. My favourite bakery to recommend is the Beyaz Fırın; my guilty pleasure on many a commute home. If you're a little further in and away from the water, you can also find high-quality cafes in the Moda district. Friends of ours own Story Café, so you can go in and mention our name and… well no discount, sorry.
If you are following my schedule, you should drink about a litre of water in the last hour you're walking through Kadiköy. It's going to be a late supper, so have a snack.
I've budgeted about 3 hours for you to visit this whole area and haven't specified where or when to stop for snacks. That's because you're in a target rich environment. Read our guide to Turkish food or just pick what looks good!
3.      Bath with Some Locals: The Hamam
We've written pretty extensively on hamams (Turkish Baths). My personal conviction is that an experience of Turkey is incomplete without a Turkish Bath, even though it's becoming less and less common. You can read about the History of the Hamam or get some pointers on How to Hamam at those links.
The hamams in Kadıköy can be a bit dirty and overpriced so we don't recommend them as highly. It's worth the travel time to head 15-20 minutes out of your way to Şifa Hamamı in Üsküdar.
To get there by transit you can take the metro (Kadikoy – Ayrilik Cesme, transfer, Ayrıllık Ceşme to Uskudar) or jump in a yellow dolmuş (Kadıköy – Üsküdar line) if you want to take transit. Honestly, I recommend the dolmuş. It's under 3 lira and (unless traffic is really bad) faster than the metro due to the transfer. The dolmuş and metro end at the same place, both less than a 5 minute walk from your destination.
Go in, get scrubbed and beaten up, and go into recovery mode. The hamam always puts me in a semi-meditative state and hits all the right time-traveling buttons for me, so when touring friends around we usually recap and relive our stories and experiences on the hot stones of a hamam at the end of the trip.
This will take 60-90 minutes. After you come out, you won't likely want to do much of anything, so it's time for an amazing, relaxing supper then the trip back to the hotel. To get to our recommended restaurant, take a taxi or retrace your steps on transit back to Kadıköy.
Interlude: Supper
This is the meal you've been waiting for. Arguably the best Turkish food restaurant in Istanbul, Çiya is well known and raved about by ordinary travelers and professional reviewers alike. This is high class Turkish dining at a very reasonable price by western standards. You can order a bunch of dishes from the great staff by pointing at what you want below, order from the menu, or let your server surprise you. The menu is amazing, but I recommend the stuff on display downstairs.
Here's what you want to do if you just can't decide and want to try everything. Tell your waiter you want to try a variety of things and that you (and your travel companions, if you're not alone) want his advice. If there is a dish or two you know you want, tell him that but leave the rest up to him. Then – this is important – tell him how much you want to spend in total. Tell him to bring you 50, 100, 200, 700TL worth of food (depending on your appetite, budget, and group size) and tell him just to bring stuff until the bill hits that. Simple. Delicious.
Linger over some unforgettable flavours and relax.
When it's all over, you've got a couple options for how to get back to the hotel. Walk down to the ferry and get on the Kadikoy – Eminonu line. If that's closed, the metro entrance is close by. Take the metro to a stop near your hotel then jump out and take a taxi. If neither of those appeal to you and money isn't a concern, you can take a taxi front the waterfront in Kadikoy back to your hotel.
I hope you had an amazing time in Istanbul. There's so, so much more I could recommend, but for 3 full days, if you followed my advice you did well. If you liked this article, share the link with some friends. Iyi yolculuklar!!
How To Get There
General
This guide assumes you will be using public transportation (tram, bus, etc) heavily and walking most of the rest of the time. Get yourself and IstanbulKart from the airport before you venture into the city.
You can take the metro straight from the airport to the Sirkeci Metro stop. Coming up from there, if you jump on the above-ground rail system (tramway) you can find Sultanahmet Square in just a couple stops.
Alternatively to save time you could jump in a taxi and ask them to take you to your hotel or the first of your destinations, Hagia Sophia.
You could rent a car but we don't recommend it. You'll have a harder time finding parking and battling traffic than if you just public transport.
Plane
Where To Stay
For ease, we also recommend staying in the Old City near Sultanahmet Square if you can do it. You can, of course, find suitable hotels anywhere in the city, but the Old City is the most central to where you will be going. A second option is in the area near the tram in Karaköy (below the Galata Tower) where there's a good selection of hotels and easy access to all the sights on this list.
Have any tips or info to add? Spot any mistakes? We'd love to hear about it.