24 Hours in Istanbul
/ By Sean
I am still finding new sights, excellent restaurants, and unique stores after almost four years of exploring Istanbul. It's one of the oldest and largest cities in the world. It's a bridge between the west and the Middle East. It has become home.
We have hosted a few dozen friends and family members as they tour the city for the first time. "What are the things I absolutely need to see before I go?" All of it. "Which Turkish foods should I try first?" All the foods. "Which is the best mall in the city?" All the malls. "How many Turkish girls are interested in going out with me as a foreign guy?" Nice try, you almost got me.
OK, I'm prone to exaggerate. My honest advice would be to spend 10-12 days in Istanbul if you want a thorough experience. You can get a wide range of food, sight-seeing, and shopping done in that time, and even take some time to rest. But not everyone will have that opportunity.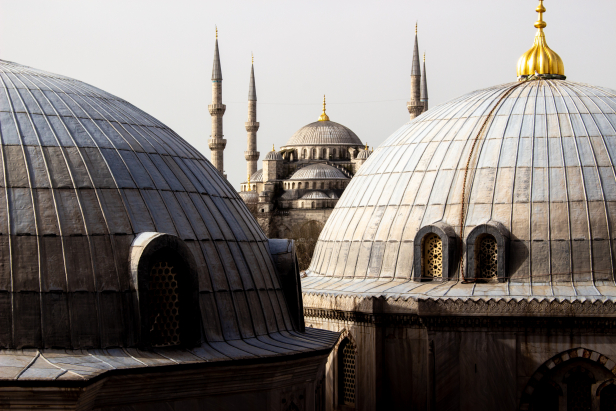 Remember when we used to have to go to a store to rent a physical tape or DVD if we wanted to watch a movie we didn't own? My favourite thing to do was browse through the "Staff Picks" section. What movies did the people that watch all the movies recommend? That's what this article is. Welcome to the Art of Wayfaring Staff Picks of What to Do in Istanbul in 24 Hours.
Subscribe to The Art of Wayfaring
This list caters to my personality. When I travel I prefer historical stuff and food. It also takes into account what tourists tend to prefer. Mix and match if you want, but I have laid out the actual route you can take from place to place to save the most time and money. For the sake of ease, this article and others like it will also start in the morning and assume you're spending at least one night in a hotel before you move on from Istanbul.
1.      The (Former) Church of Holy Wisdom: Hagia Sophia.
For centuries it stood as one of the largest buildings in the world. I can't imagine how striking Hagia Sophia must have been to people in the middle ages as they sailed toward Constantinople, especially from those coming from the (relatively) underdeveloped area of western Europe.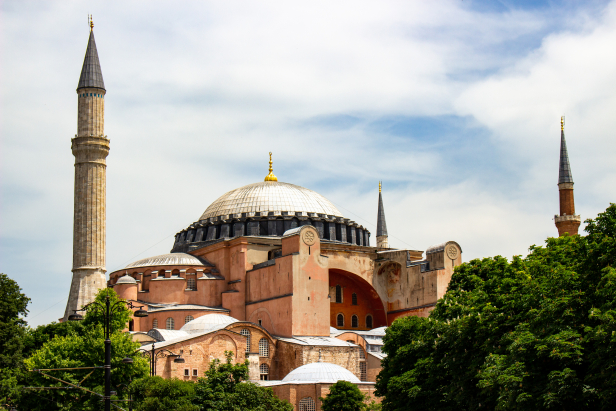 Built in 537 AD, Hagia Sophia has weathered fires, earthquakes, riots, and the fall of two empires. It started as a significant church, was converted to a mosque, and finally became a museum. Now it hovers somewhere between mosque and museum as it is occasionally used for namaz (prayer) on certain special days. Its interior is astoundingly beautiful and must have been otherworldly at its height.
If you're quick, it will take about 45 minutes to go through (not including entrace lineup), but when I'm taking people I usually leave an hour to take it all in.
From there, you can head to the tramvay (tram) just north of Hagia Sophia. Chose the train heading west and get off at the Beyazıt/Grand Bazaar stop.
2.      The Covered Market: Grand Bazaar
Known in Turkish as Kapalı Carşı, the Grand Bazaar is a network of several covered city streets that are packed with thousands of shops that has been in use for at least 400 years. In peak tourist season the streets between shops become almost impassably full with both Turkish and foreign visitors. There, you can buy plastic tourist trash or 8000 Euro scarves… or anything in between. The costume designers for films like Troy and Star Wars have shops in the Bazaar. Turkish gold, WWII memorabilia, and rare antiques pack out some of the lesser-travelled corners. Be shrewd as you shop and enjoy the experience.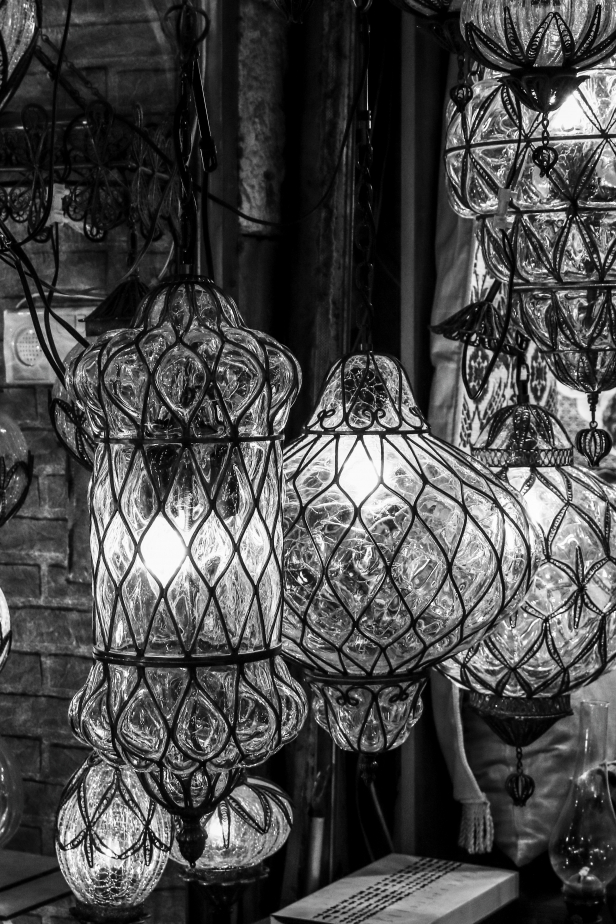 How long you stay is totally up to you. An hour is enough if you aren't doing any heavy shopping, but if you get lost inside (which will happen to 95% of you) or want to spend some extra time exploring, block off a couple hours.
Then it's time to eat.
Interlude: Lunch
The area around the Grand Bazaar is full of second-rate, hiked price tourist traps. But you know someone who knows someone who found a great place. I highly recommend a hidden ev yemekleri place. Ev yemekleri means "home cooking" and it will probably be a little different than most of the other foods you eat in Turkey. The price is right, the cooking is great, and it's located just close enough to the Bazaar to be convenient. There's next to no wait time because they are constantly restocking the food throughout the day.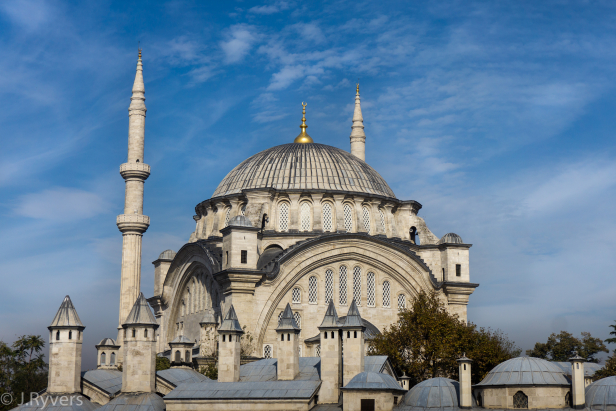 To get there, head out "Gate 1" from the bazaar, also known as Nuruosmaniye Kapısı. You'll walk by a massive mosque of the same name then walk straight down a walking street with some good coffee shops, then take a right to a side street. A couple blocks down that street, there is a side street off the side street (trust me, this is worth it!) When you get to the restaurant it might just say "Şener Silver" on the door. Go in there. To make it easier, follow Google Maps to your destination: No. 11 Gazi Sinan Paşa Sokağı.
3.      The Journey to Galata Tower
When you're done lunch, head back to the tram you got off but get on the train heading east toward Kabataş. You're going to ride it over the Golden Horn; a little strip of water that made old Byzantium such a strategic (and later wealthy) city.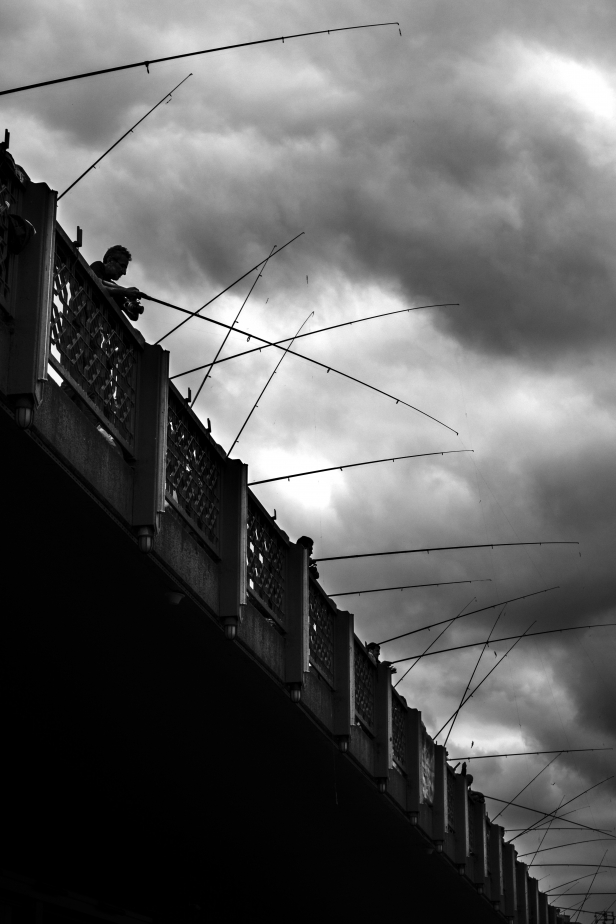 Get off at Karaköy stop. When you do, you will no longer be in the old part of Istanbul. This area was its own city until Istanbul and the surrounding towns joined to become the huge metropolis it is today.
On your way, you probably caught a glimpse of the famous Galata Tower stabbing up through squatter buildings all around it. That's your destination, but the walk up shouldn't be wasted.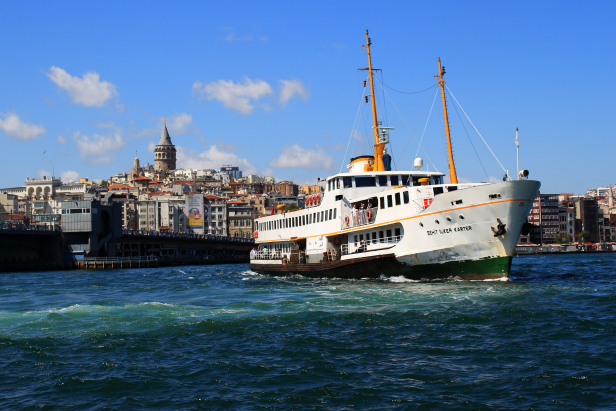 Starting from the tram you got off, feel free to explore the hidden staircases and back streets of the area as long as you keep yourself oriented generally toward the tower. This is the area I recommend to people to buy postcards and souvenirs. When it's warm, you'll probably stumble across street musicians and some of the more bohemian segment of the city's population. This part of your day will feel quite a bit more modern than our last two stops.
The walk will take an average person 30 – 45 minutes. How long you spend browsing in shops is up to you, but don't get too bogged down because the best shopping happens a little later.
4.      Galata Tower
The Eiffel Tower of Istanbul. Never heard of it? I hadn't before I moved here either, but to many locals it's the true symbol of Istanbul. The tower's original name was Christ Tower. In its day it has been used as a military fortification, a fire watch station, and finally a visitor's attraction. The café inside isn't cheap, but it is good. There are often long lines to get to the top, and authorities wisely limit the amount of visitors they admit at any one time so as not to cause a people-clot. If you are a photographer, this will be one of the best vistas you'll find in the city. Go up if you feel inclined, but a look around the base is also worth the walk.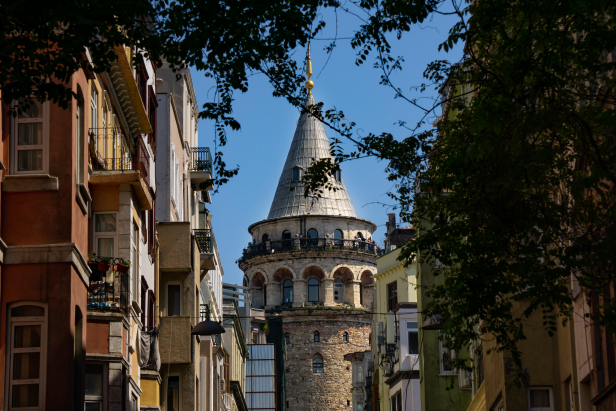 If you go in and don't eat, I recommend 30-45 minutes depending on how much you like views and feeling like Rapunzel.
Leaving Galata Tower, continue uphill the on the street that you came up until you reach Istiklal Caddesi. It's only about 5-10 minutes farther up.
Interlude: Afternoon Snack
You probably ate a lot for lunch, but you're only in Istanbul for a while. There are some Juice stands and sweets places all along the way from Karaköy to İstiklal to chose from, but if you want something more substantial this is the time to try lahmacun, pide, or a durum. There are several decent places right at the base of the tower, but you can also choose one of the shops further up.
Just don't fill up too much because supper is going to be amazing.
5.      Walk Istiklal
You're now on one of (if not the most) famous walking street in the city. Shops of every description, all kinds of restaurants, a few museums, some dance studios, and even a number of consulates line the street. A retro red tram runs along it, too, as it scatters people walking on the tracks.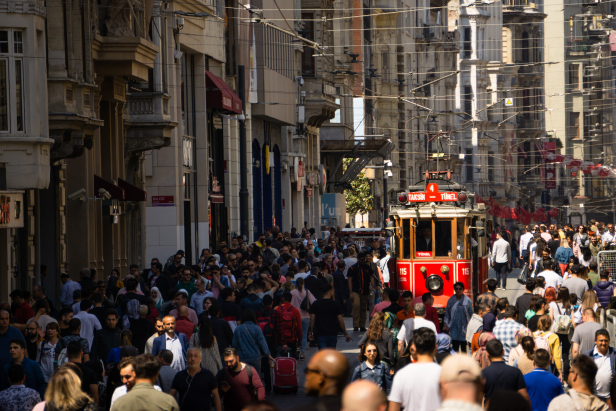 You're going to be on this street until supper. This is a great place to get clothes and see some local art, if that's your thing. Make your way toward Taksim Square, which signals the end of the road. The whole walk is only about 20 minutes if you rush through, but if you take your time and shop you could use the rest of the day.
There's a lot on this street. Don't be intimidated by the book stores and publishing houses; all the ones I've gone into have English sections. (And German and French and Russian…) Duck in and explore anything that catches your eye.
Don't get pickpocketed, and don't follow anyone into a basement. The main street is safe, and while there are great sights down some of the side streets, there's also some unsavoury establishments that aren't places you want to visit.
Interlude: Supper
You will find my favourite restaurant in all of Turkey not too far from the famous Gezi Park. Turn north onto Atıf Yılmaz Caddesi and keep your eyes to the right. Tarbuş is waiting for you there. It is a Syrian food establishment run by and frequented by Syrians. The staff is fantastic, the food is better. It's a flavour party and everyone is invited. Prices are quite good and portions are big. I suggest trying as many different dishes as you can, and don't miss desert.
6.      Optional Unwind: Hamam
We're well into evening now and you've done a lot. You're probably a little footsore, and maybe a bit jetlagged. Either you need to catch a flight or you're going to be heading back to your hotel for the night. Either way, a Turkish Bath would be a perfect end to the day.
Now, at this point you find yourself in high end tourist-hamam territory. If that's your thing, just enjoy whatever you find! Even though one of our favourite things to do is visit and review local hamams, we've only found one decent hamam on the European side (The Great Bath of Kasımpaşa is fairly close by if your pressed for time). Don't let that stop you from the spa experience you can find at a tourist-hamam. Most Turkish Baths are open till fairly late (9-11 PM depending on the Hamam) so they're a great way to wrap up your day if you have the time.
Not even sure what a trip to the Turkish Bath entails? Check out our guide: How to Hamam, to find out just what goes on in a Turkish Bath.
After the Turkish Bath, you can take the metro to the nearest stop to your hotel or directly to the airport, but a taxi to either of those places wouldn't cost too much from Taksim. You've only seen a sliver of Istanbul but I hope you got a taste for the breadth that it has to offer and that you'll be back soon!
Why Visit?
How To Get There
General
This guide assumes you will be using public transportation (tram, bus, etc) heavily and walking most of the rest of the time. Get yourself an IstanbulKart from the airport before you venture into the city (See How to Get Around for more on transit in Istanbul).
You can take the metro straight from the airport to the Sirkeci Metro stop. Coming up from there, if you jump on the above-ground rail system (tramway) you can find Sultanahmet Square in just a couple stops.
Alternatively to save time you could jump in a taxi and ask them to take you to the first of your destinations, Hagia Sophia.
You could rent a car but we don't recommend it. You'll have a harder time finding parking and battling traffic than if you just public transport.
Where To Stay
While there are a lot of hotels right at the end of this route in Taksim, we wouldn't really recommend them if you're looking for a good night sleep. Night clubs and massive crowds combined with the fact that most of the buildings here are old and not built very soundproof makes for a hard sleeping environment. If you're not interested in too much sleeping and want to be one of the loud revelers till the early morning then there are dozens of perfect hotels and hostels for you.
For a quieter nights sleep you're better to find something near Sultanahmet Meydanı. Despite being the historical and touristic heart of the city, we have been surprised at the variety of places to stay and the generally reasonable prices and quality.
Other Tips
If you're only able to spend a day in this wonderful city, here's a selection of Istanbul's amazing sights that you'll need to come back to see!
Have any tips or info to add? Spot any mistakes? We'd love to hear about it.